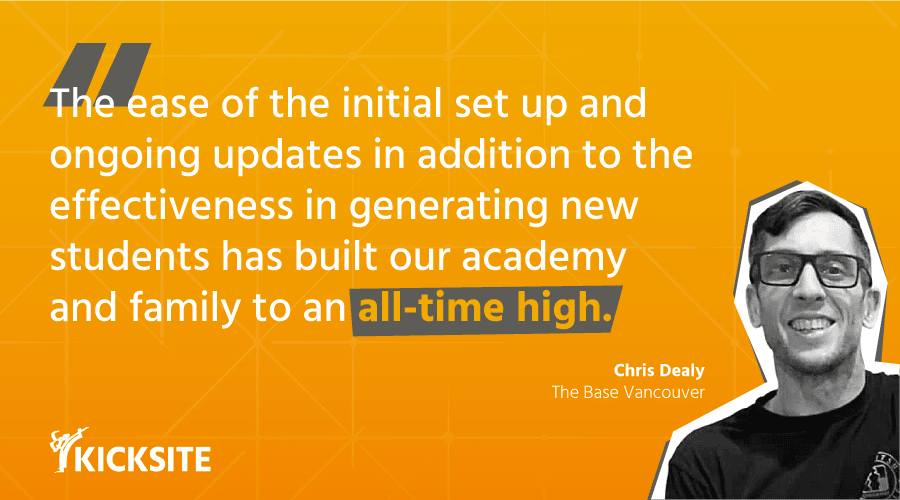 What is The Base Vancouver?
We opened The Base Vancouver on October 1st, 2014 with about 20 students in a 1700 sq ft space centrally located in Vancouver, Washington. With prior experience coaching at other gyms, we knew the atmosphere we wanted to create and made it our mission to be strictly a grappling academy for both kids and adults. In 2019, we moved into a 5000 sq ft space next door to our original space and even through the pandemic of 2020, we were fortunate enough to be able to retain the majority of our clientele. This year, 2022, we reacquired our original space and built a second mat space to be able to facilitate the growth of our programs and we are happy to say, with around 400 active members, we are one of the largest grappling academies in the region.
Challenge:
Since day one, we have utilized social media and website services to market our academy to the community. Prior to using Kicksite, we had attempted multiple ways of creating a website that reflected our Jiu Jitsu academy appropriately. While many looked nice and were effective in getting our information onto the internet, it was difficult to get updates completed, make modifications or see if our presence was getting enough traffic online. It was quite a hassle and we decided to just use social media as our main form of online media.
Result:
Once we were able to fully reopen post-pandemic, we partnered with Kicksite for our gym management software and were impressed right away. A few months later, we entrusted Kicksite to take over management of our website services and have seen even more growth since.
Getting started with our Kicksite website was simple. We were given multiple layouts and options to choose from to see what fit our style the best. Then they researched our academy and were able to use photos, our schedule and content directly from our social media platforms to build a draft of what our site would look like. Once we approved it, it was live!
This initial set up was quick and easy for us as the business owners. We were very impressed with the details they put in to personalize the website to our academy. Since making this switch, we are daily receiving inquires via our "Contact Me" page, which give us new individuals to contact in order to answer questions regarding our programs and bring them in for a class. This has built our student base incredibly, especially in our youth and beginner's programs. We've now grown and expanded our facilities to add an additional mat space and bathroom due to the high demand for these classes. This also gives our more advanced students new opportunities in coaching and building their own careers as instructors.
Overall, the ease of the initial set up and ongoing updates in addition to the effectiveness in generating new students has built our academy and family to an all-time high. We are so happy and pleased to partner with Kicksite for our website and software services.