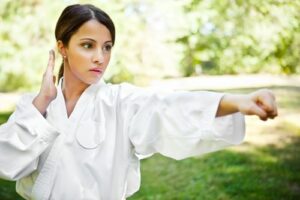 Kicking an addiction can often prove difficult. It's common for individuals to fall victim to unhealthy relapses as they struggle with the major lifestyle change.  When people are trying to fend off an addiction, it's important they strive to improve both mental and physical health.
Participating in martial arts can be an extremely helpful form of therapy when going through that kind of process. Martial arts are such beneficial activities because they require toughness in both mind and body. They provide athletes with a healthy way to work on strength, conditioning and flexibility while simultaneously practicing discipling the mind.
The benefits of exercise
One of the negative effects of frequent drug use is found in the toll that such substances take on one's physical health. A good place to begin recovery is by making an effort to regain some of the body's vitality. Martial arts are great for doing just that.
Mark Smith of Davidson College and Wendy Lynch of the University of Virginia explored the possibility of using exercise as a potential treatment in drug-abuse cases. Their research, published in the journal Frontiers in Psychiatry, showed that utilizing aerobic exercise during interventions lowers the risk of falling back into addiction patterns.
Gaining mental strength and discipline
One of the things that makes training in martial arts so unique, compared to other sports, is that it requires a high level of mental fortitude. Participants must have a sharp memory to recall the pattern of movements featured in katas, for example.
In addition, those who train in martial arts are taught when it's appropriate to use their training against someone else. Having the discipline to decide when to throw a punch or walk away in a fight can extend past the martial-arts realm. It can help with everyday decision making characteristics. Being mentally tougher can go a long way in resisting the urge to fall back into an addictive pattern.
While exercise can help addicts break unhealthy habits, seeking help from a professional should be the first step.