How to Use Kiosk Mode for Landing Pages
You can share a Lead Capture Form or Landing Page on your website or via social media or email. But what if you want to enable people to enter information in-person? In that case, Kiosk Mode is helpful.
Before creating a Landing Page, best practice is to create a Lead Capture Form. Also, you may need to create a Trial Membership and/or set up your Inventory list in Kicksite prior to creating a Landing Page. Then you can create a Landing Page.
To use Kiosk Mode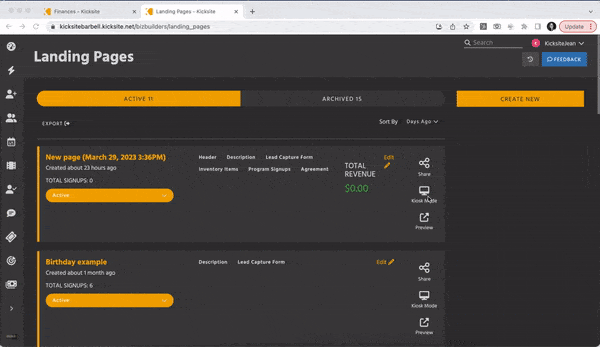 1. On the left panel, click Marketing Tools, and then click Landing Pages.
2. Find the Landing Page you would like to use, and then click Kiosk Mode.
The Landing Page will open in Kiosk Mode in a new browser tab. After a prospect fills in the form and clicks the Submit button, the page will refresh in 5 seconds to allow the next person to sign up.
After you've shared your Landing Page and started collecting prospects, you need to nurture your leads.