How to Convert a Prospect to a Student
When a prospect signs up and is ready to become a student at your school (congratulations!), you need to convert them from a prospect into a student in Kicksite. (If the new student is not already entered in Kicksite as a prospect, we recommend entering them directly as a new student to save a few steps.)
First Steps
Before you can convert a prospect to a student, they need to be in the system as a prospect. You might have entered a new prospect, or they may have come to you from a Lead Capture form and Landing Page.
To convert a prospect to a student:
1. Click Prospects and then List in the left panel. Find the desired prospect, click the status drop-down list, and select Student. If you haven't added the prospect's birthdate, you will be prompted to enter it. Click the Convert to Student button.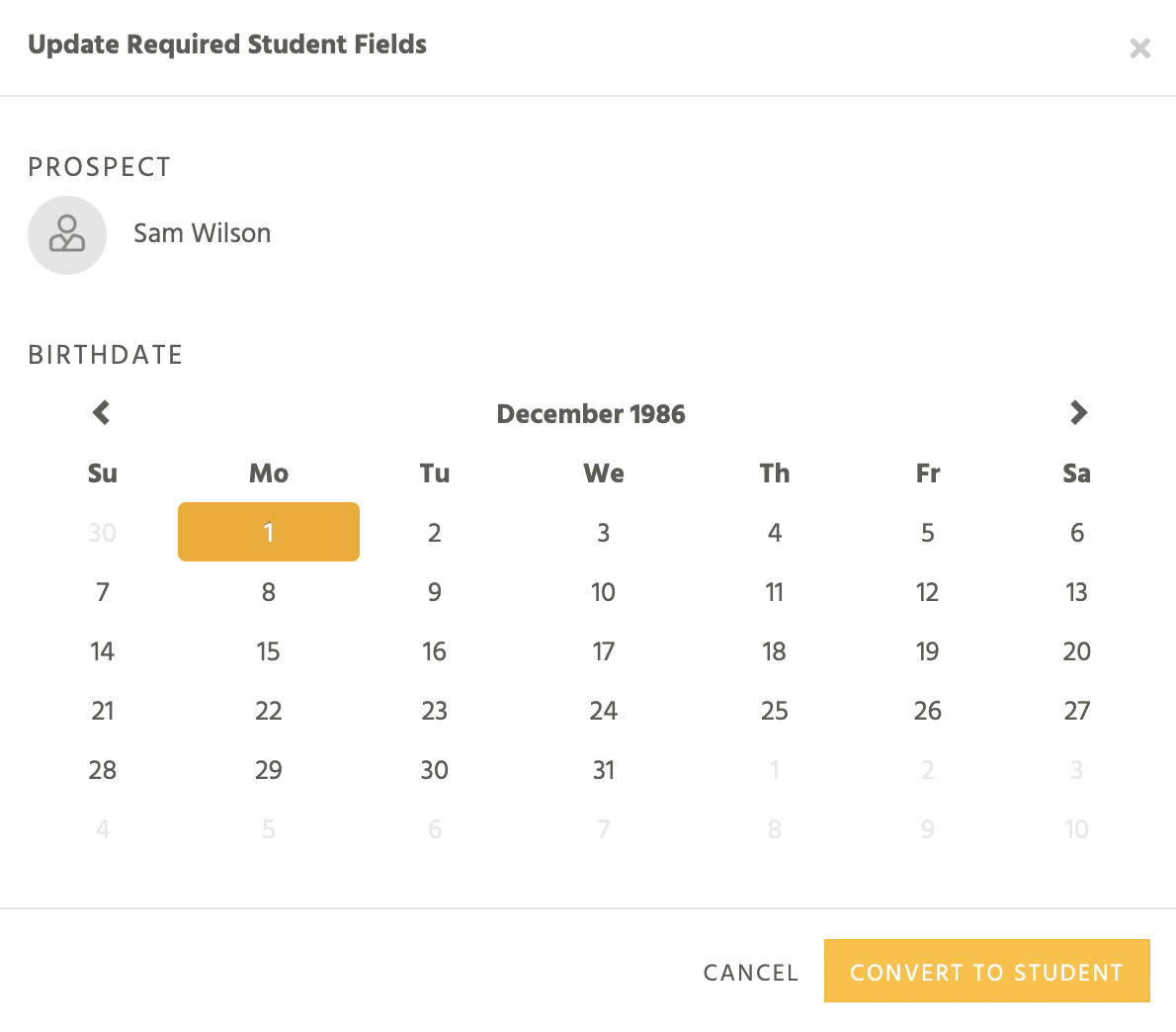 Alternatively, go the the prospect's profile by clicking the prospect's name in the Prospects list or by tying their name in the Search box in the upper-right corner and clicking the correct name in the search results list. On the Profile page, click the Convert to Student link. In the dialog box that appears, click OK to confirm that you do want to convert the prospect to a student.

2. If you converted from the Prospect list, click the new student's name to go to the Student Profile page; if needed, click Edit Student to update the new student's information. If you converted from the Prospect Profile page, the Edit Student page appears, with the prospect's information filled in. This page is the same as the New Student page. Here are a few items to check and update as needed:
ID: If needed, update the ID number for the student. This is the number they will enter in the Student Check-In screen for attendance.
Birthdate: If the prospect didn't have a birthday, you will need to add it using the month, day, and year drop-down lists. If you don't know their birthdate, you can enter a placeholder, such as January 1 of the current year.
Programs: Select the check box(es) for the program(s) the new student is signing up for. If needed, you can select a rank from the drop-down list beside the program (if, for example, the new student should be a Green Belt instead of a White Belt).
Send SMS (Text) Notifications and Mobile Phone #: Select the check box and enter the mobile phone number if the new student wishes to receive texts from you.
Contact Information: Add to or update the Email Addresses, Phone Numbers, Street address if needed.
Parent/Guardian Information: Add the guardian information if needed.
Emergency Contact: Add the emergency contact name and phone if needed.
3. Click the Update Student button.
The prospect is converted to a new student.
What's Next?
After you convert the prospect to a student, you may need to add the student to a family, add a membership, add an agreement, and set up a recurring billing for their tuition payments. Also, consider sending a student user account invitation to the new student.