How to Create a New Student
When a new student joins your school, you can add them in Kicksite on the Add New Student screen.
Click the following link to watch the video about how to add a new student.
To add a new student:
On the dashboard, click Students, and then Add New Student. From within Kicksite, hover over the Students tab and click on New Student.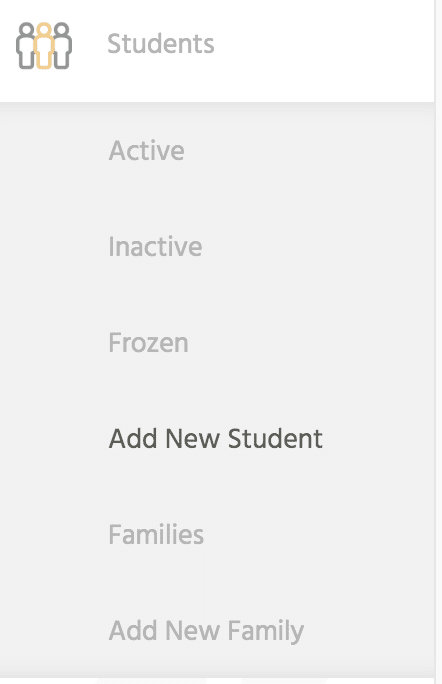 2. In the New Student screen, fill out the student's information.​
The system automatically fills in the ID number. (You can change the ID number if desired; if the number is unavailable, the system will alert you.)
The First Name and Birthdate fields are required.
The other fields are optional.
3. To give the student a program and rank, select the checkbox next to the desired program, and then use the drop-down list to select the correct rank.
​4. (Optional) To add notes about the student, click the link beside Notes or Medical Information. You can then type any relevant information in the text field.
5. (Optional) To add a photo of the student, click the Choose File button. (To upload the photo, it will need to be saved on your device.)
6. (Optional) To send text messages to this student, select the Send SMS (Text) Notifications checkbox and enter the phone number in the Mobile Phone# text field.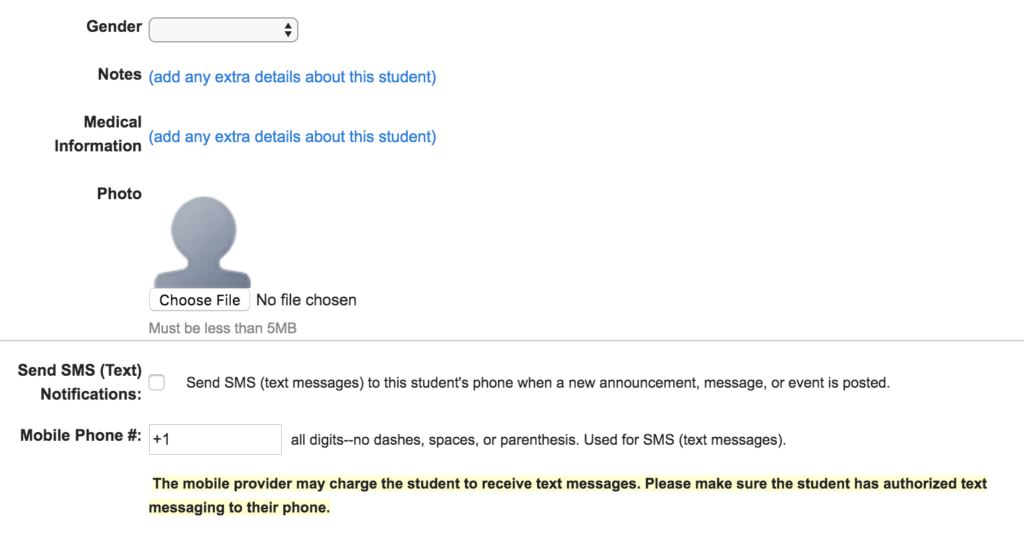 7. Click the Add Contact Information link to add more contact info to the new student.
8. Enter the email address in the Email Address field. You can select the type of email from the drop-down list (Home, Work, or Other).
9. (Optional) Click the Select communications for this email address link to restrict the types of emails that will go to this email address. (For example, if this is a minor student's email, you remove the checkmarks from the checkboxes under Financial so the student will not receive invoice notifications.)
​
10. Enter a phone number in the Phone Numbers field; select the type of phone from the drop-down list.
11. Enter the physical address in the Street, City, State, and Zip fields.
12. (Optional) Fill in the Parent/Guardian Information section; enter an Emergency Contact name and phone number.
13. (Optional) Click the Add Initial Membership link to select the student's membership.
14. (Optional) If needed, you can add the agreement, first payment, and set up a recurring billing by clicking the appropriate links and filling in the necessary information.
15. When you've filled in all the necessary information for the student, click the Create Student button.