How to Use One-Time Charge
When you need to collect money but don't require a full invoice, you can use Kicksite's One-Time Charge feature.
Creating a One-Time Charge:
First, open the One-Time Charge window. There are three points of entry:

In the

Finances

section of Kicksite, go to the

Payments

tab, then click the

One-Time Charge

button. Select the Student, Prospect, or Family you want to charge.

Go to the

Finances module

of a Student's profile, then select

One-Time Charge

from the

Add New

dropdown menu.

Search Quick Links (which can also be opened using the / key on your keyboard) for One-Time Charge

.

Choose a

Revenue Stream

. 

Enter an amount.

(Optional) Set up tax for this Charge.

Your retail invoice tax rate is used by default. You can change your tax settings in Finances Settings.

(Optional) Add a description. 

If you add a description, it's used as the line item title. Otherwise, the line item is titled as the Revenue Stream.

Click

Pay Now

and review the summary. Then, either: 

Select a Payment Method and click

Pay Now

again to finish.

Click

Pay Later

if you'd rather wait to collect, or don't have a Payment Method on file.

Click

Void

to discard this Charge if you made a mistake.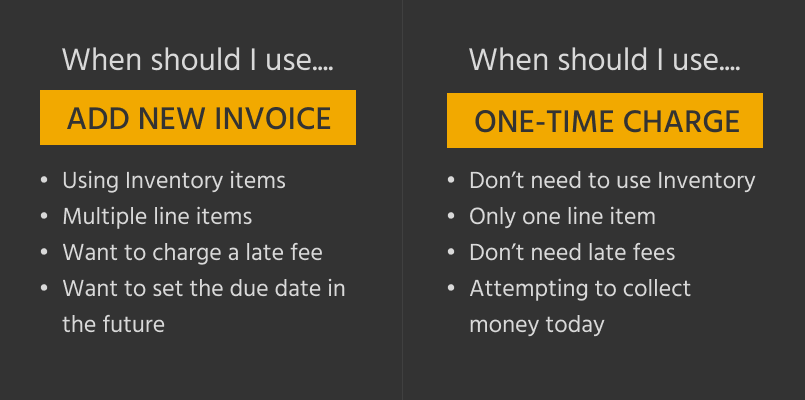 Good to Know
Using One-Time Charge creates an invoice with the "MISC" prefix.

The fastest way to find a One-Time Charge invoice is to check the attached person or family's profile, but they also appear in the Invoices tab of Finances.

If you need to charge a late fee, set the due date in the future, have multiple line items, or have different tax rates in the same invoice, use the Add New Invoice page instead.
To learn more about invoices and the critical role they play in managing your business' finances, click here.