How to Add a Trial Membership to a Prospect
Trial memberships allow your prospect to experience a class they are interested in before signing up.
To add a trial membership to a prospect: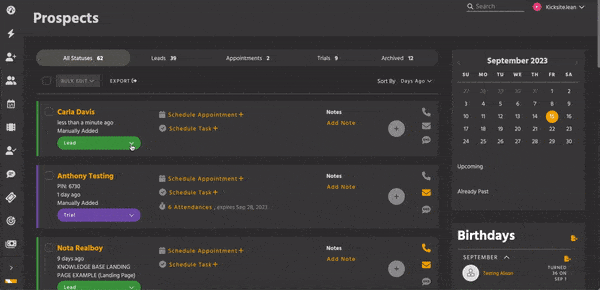 1. On the left panel, click Profiles, and then click Prospects.
2. Find the prospect you want to add a trial membership to in the list. Click the drop-down list directly underneath the prospect's name and select Trial.
You can also add a trial on the prospect's profile.
3. In the pop up that appears, you can set the trial end date by selecting the date from the calendar, and/or you can enter the number of attendances allowed for this trial membership.
The trial membership will end on the selected expiration date and/or the prospect attends the entered number of classes.
4. Click the Save button.​
The page will redirect to the Prospects page and the trial membership will be added.
What's Next?​
To learn how to add Trial Memberships from your website or social media, check out our Marketing Tools (formerly called BizBuilders)! You can also track attendance for your trial memberships.