How to Share a Landing Page
Marketing Tools (formerly known as BizBuilders) give you the ability to create Landing Pages and Lead Capture Forms. You can create Landing Pages to gather leads, offer a sign-up form for special offers, or sell items or memberships.
You can put a Landing Page on your website or share your Landing Page on social media, in online newsletters, or in emails.
Before creating a Landing Page, best practice is to create a Lead Capture Form. Also, you may need to create a Trial Membership and/or set up your Inventory list in Kicksite prior to creating a Landing Page. Then you can create a Landing Page.
To share your Landing Page
1. On the left panel, click Marketing Tools, and then Landing Pages.
2. Locate the Landing Page you would like to embed; hover over the Share icon and then click the desired option: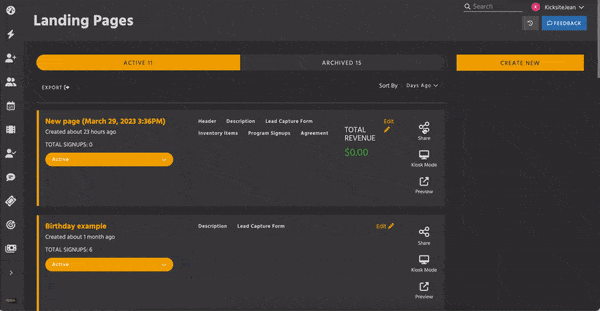 Link: Click Link and then Copy. The link is copied to your device's clipboard; you can then paste the link in an email, social media post, or more.
Embed Code: Click Embed Code and then click Copy. You can then paste the code into an email to send to your webmaster, or paste the code into your website code yourself.
QR Code: Click QR Code. If desired, you can click the Show Logo toggle to remove the logo in the center of the QR code. Click Download. The QR code image file (.png) downloads to your device. You can share the QR code on flyers, business cards, and so on.
You can use Kiosk Mode to display a Landing Page (for example, to enable prospects to sign up at an open house event).
After you've shared your Landing Page and start collecting prospects, you need to nurture your leads.