How to Create a New Prospect
Creating prospects in Kicksite allows you to connect with your leads more efficiently.
Click the following link to watch the video creating a new prospect.
To create a new prospect:
1. On the left panel, click the Add New Profile icon.
2. Under Profile Type, click Prospect.
3. Type the prospect's name in the Name field; type the email address and phone number in the Email and Phone Number fields, respectively. If you wish to text the prospect, click the SMS toggle to show On.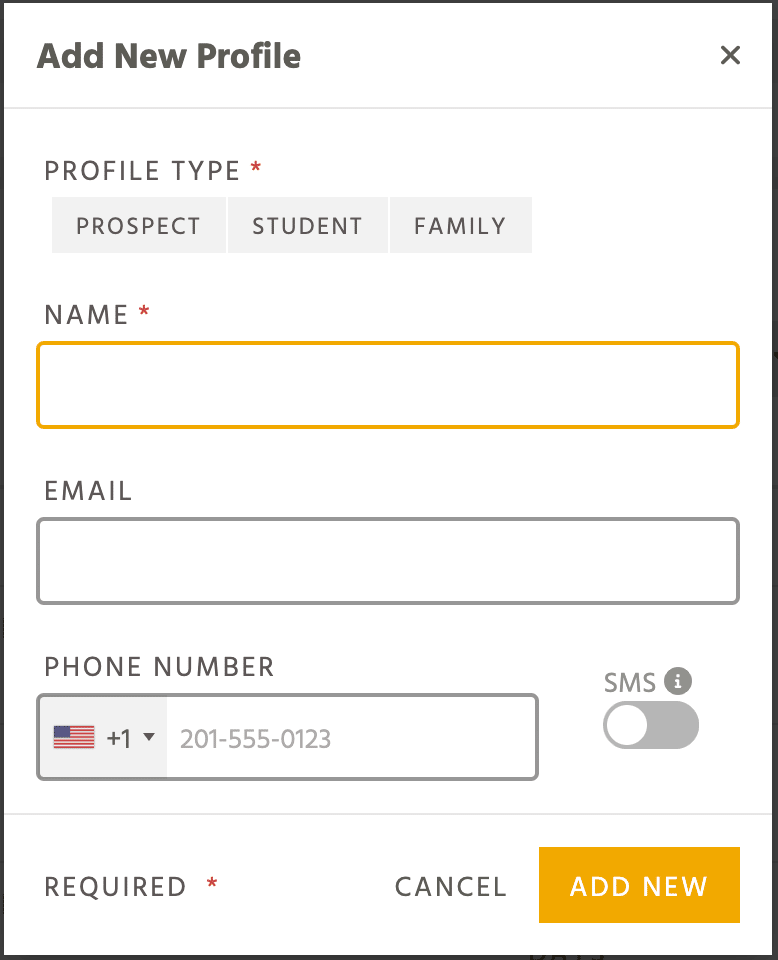 4. Click the Add New button. You've just created a new prospect!
5. (Optional) If you'd like to add more information to the prospect, click the View Prospect button in the green note field. (It will appear at the bottom of the screen.) Alternatively, on the left panel, click the Profiles icon, and then click Prospects. Click the desired prospect's name in the Prospects List.

6. (Optional) Hover over a field you want to update and click when you see a pencil icon. Type to add more information, and then click outside the field to save the information. (Adding a birthday is helpful if you want to wish prospects a happy birthday or market your birthday party offers.)
8. (Optional) If the prospect is a child, you can enter the parent or guardian information. You can enter one or two Guardians; you can enter the Name, Relationship, Phone, and Email.
9. (Optional) Enter one or two people to contact in an emergency; you can enter the Emergency Contact(s) Name and Phone.
10. (Optional) Send the prospect an agreement to sign (click here for the steps to send an agreement to the prospect).
Next Steps
A great way to gather prospects is to use a Lead Capture form and Landing Page. This will save you time because the information the prospect enters into the form (from your website or a link shared on social media) will automatically come into Kicksite as a new prospect.