How to Access the Attendance Log
By using the Attendance Log, Kicksite makes it easy to track and update your student attendances.
Click the following link to watch the video about the Attendance Log.
First Steps
Before you can review attendance, you need to create programs and add ranks and belt graphics. You also need to add new students (make sure you attach at least one program to the new students). You can use the Student Check-In screen or use the Mass Check-In screen to take attendance. Also, consider setting up Attendance Details and enabling Attendance Awards.
To use the Attendance Log to add an attendance:
1. From the dashboard, click Attendance on the lefthand sidebar, then click Attendance Log. From within Kicksite, hover over the Attendance menu and click on Attendance Log.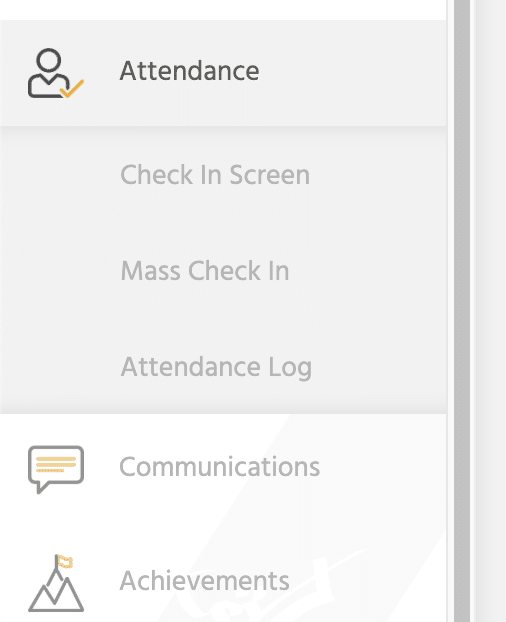 ​
Track, search, and add attendances: The Attendance Log defaults to show all of the check-ins for that day. The information available is the student's name, the date of attendance, the time of the attendance, the student's rank, and program that they were checking in for.
Delete attendances: The Delete button allows you to remove an attendance as needed.
2. Click the green Add New Attendance button on the top-right corner.
3. In the box that appears, you can:
Add a quantity (number of classes)
Select a student to add the attendance for
Choose the program for the attendance
Add a specific date and time for the check-in
4. When this information has been entered make sure to click the Add Attendance button.
​
To search attendances in the Attendance Log:
1. From within Kicksite, hover over the Attendance menu and click on Attendance Log.
2. Click on the drop-down list to select check-ins from as little as the past 30 minutes or as far out as the past month.
3. You can also select a specific date range by clicking Custom.
4. To narrow the results, in the Program/Rank Filters section, select the checkbox(es) next to the program(s) and then rank(s) you want to see.
5. After you have chosen your filters, click on the Search Attendances button.
What's Next?
Often, tracking attendance is helpful to determine if students are ready for promotion. You can use the Testing Eligibility screen to set the criteria for how many classes students need to attend to be eligible to earn their next rank. When your next belt test is coming up, make sure to create a Belt Testing Event.
​