Focusing solely on martial arts, Kicksite makes it easy to customize the system to fit your schools curriculum. This includes the ability to add in the core rank structures and add graphics to allow your students a virtual belt that matches their actual belt.
*NOTE*: If your school or studio is part of an association that has restrictions on programs or ranks, please email us at support@kicksite.net so we can assist you.
Click below to watch the video or scroll down for instructions.
To add Ranks and Custom Belt Graphics
Hover over Settings and click on Programs page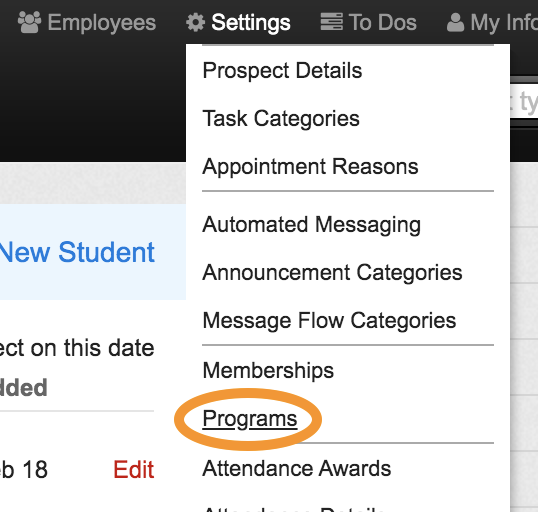 2. click on View/edit ranks for this program
This will allow you to review the current ranks, add new ranks, and edit the belt graphics to reflect your system
​
How to add a Rank
1. Type the name of the new rank at the bottom of the page then click Add Rank. An abbreviation can also be added if needed.
​
This new rank will appear at the bottom of this list
If you need to move the new or existing rank, simply drag and drop it to its appropriate position within the ranking structure
How to add Belt Graphics
1. To add custom belt graphics to a rank, click Edit to the right of the rank that you would like to update
​
2. Clicking on edit opens a menu with multiple options to change the way your rank will look
3. This menu allows you to rename the rank, add single colors, horizontal and vertical stripes, tips, camo colors, and other decorations
​
Here are a few examples of the different belt options that can be added:
​
NOTE: Not all ranks carry a belt so, in some cases, no graphics will be required. This includes N/A ranks or ranks that don't have a physical belt to represent.Read More