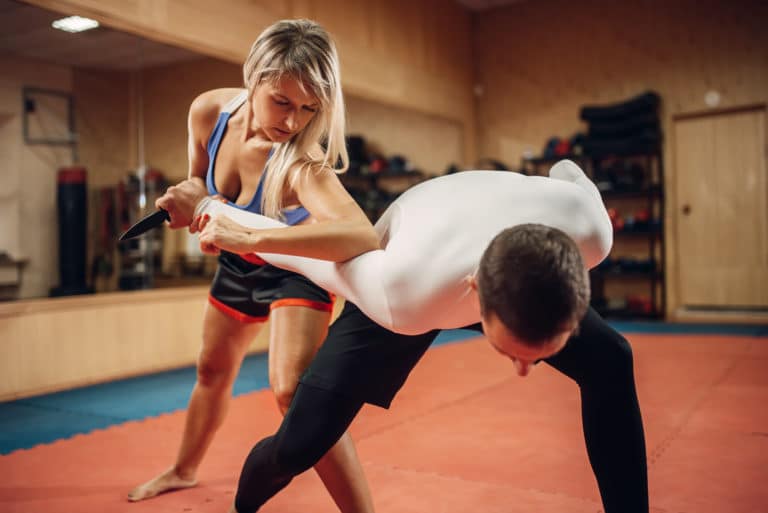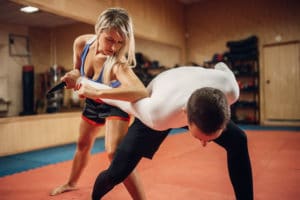 Your Personal Safety Matters
Self-defense is a cornerstone of personal safety. We have an inherent need to protect ourselves in potentially unsafe situations or when we find ourselves in unknown areas. This is a perfectly natural response, but how many of us truly know how to protect ourselves when push comes to shove? Many high schools require a single day self-defense course that is offered to students during physical education classes, but that information dissipates quickly when it isn't continually trained.
Not only that, but this year in particular seems to have people sitting on the edge of their seats when it comes to perceived safety. According to​ SafeWise​, 46% of Americans surveyed are concerned about their personal well-being. When comparing demographics such as age, gender, and location, women have expressed the highest level of concern when it comes to becoming a potential victim of violent crime.
The preservation of self comes from a very basic and instinctual place. Fight or flight reflexes take over when one feels as though they are in the presence of danger, and in many situations, these reflexes save us from harm. Learning how to properly wield self-defense techniques will benefit your students in the long run.
Why Martial Arts is the Solution
While there are several options to assure your sense of security, Kicksite wants to remind gym owners and their students that martial arts skills are effective to use when in need of personal protection. These self-defense skills can be taught to almost anyone, and with a few simple moves, your students can learn how to incapacitate any attacker in a matter of seconds with enough training. This limits the need to use unnecessary excess force or the need to discharge a weapon for their own safety.
Positioning your gym as a source for people to learn how to defend themselves during a time of uncertainty is important in this type of social climate. The ​FBI's most recent crime statistics report lower overall crime rates for the United States in 2020, but about​ 67% of recently surveyed​ Americans perceive an uptick in crime within their area. This could most likely be attributed to overexposure of the excess of media attention on violent crime, but it is always important to present martial arts as a preferred alternative to more extreme measures.
Let your students know how to access your self-defense courses with this email template:
The Template
Dear ​(their name)​,
We care about your personal safety. As a community martial arts gym, we want to provide the skills you and your neighbors need to stay safe when you're walking to your car alone at night or when you feel as though you are in a dangerous scenario. Having these types of techniques at your disposal is an important part of maintaining your well-being when faced with a potential threat.
Violent crime rates vary city by city, with some dropping year over year and others showing the occasional spike in criminal activity. You can examine crime rates in our area ​here​ and understand why it will always be useful to know how to protect yourself in a time of need. The team at ​(your gym's name here) ​understands this and has the expertise to lead you through our self-defense training classes. We want to build you up so you are prepared in every way possible.
For more information on personal safety, visit our website ​(link your website, if applicable, here) ​or reach out to our gym directly at ​(your phone number here). ​Our team is ready to train you!
As always, thank you for your continued support,
(Your name)
This email will show your community that you care about your students and their welfare. At any age, we need to be equipped with the skills to protect ourselves. Self-defense provides people with the peace of mind that they need when walking home alone or in a new and potentially unsafe situation. Your purpose as a martial arts gym is to remind your students and prospective members that you can provide them with these abilities. Having self-defense classes also incentivizes prospective students that might be out of your normal age or skill level scope to join your gym.
Embracing the WIN Initiative
The WIN Initiative is designed with our objective in its name, it's designed to help you win! We want our gym owners to succeed in the best ways possible by bringing them the resources they need to inspire their students. Bringing new and old faces back to your gym is always our end goal, and we plan on doing just that with this initiative. To see all of our most recent WIN Initiative resources, click here!
Kicksite strives to be your number one source for martial arts software support. Our WIN Initiative resources are here for you when you need them, so don't hesitate to reach out to any of our team members for further assistance. To learn more about Kicksite's membership management software or to see our customer service options, ​contact us.