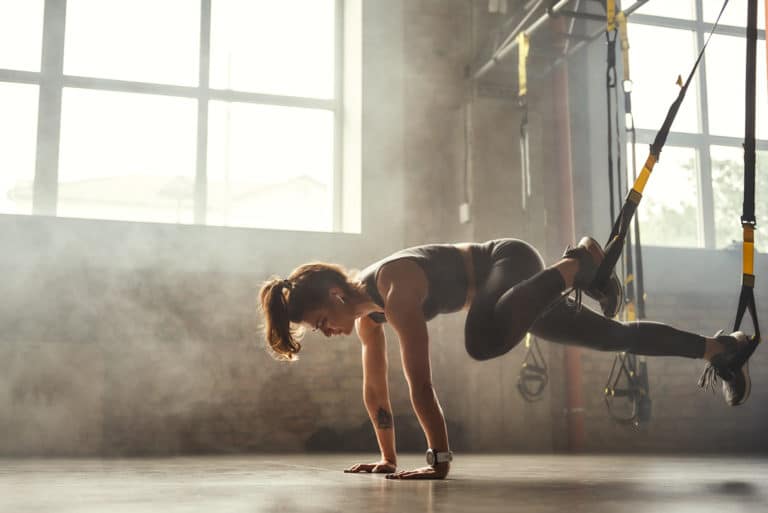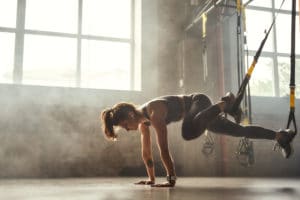 2021 marks a turning point in the fitness industry. Exercise trends are evolving and emerging as a result of technology advancements and pandemic-based habits and routines. Check out the top 10 trends we've observed this year:
1.) Wearable technology 
The American College of Sports Medicine found that wearable technology like fitness trackers, smartwatches, heart rate monitors and GPS activity trackers (from industry leaders like Apple, Garmin, Fitbit and WHOOP) is the #1 trend since 2016. These devices can be used to count steps, track heart rates, body temperature, calories burned and even monitor sleep. New innovations in technology even allow users to track their blood pressure, oxygen saturation, electrocardiogram and more.
2.) HIIT workouts
People are always looking for ways to be more efficient, and workouts are no exception. HIIT workouts are becoming increasingly popular – they're shorter (typically around 45 minutes) and, if done correctly, they deliver many of the same benefits as more endurance-based workouts. 
HIIT workouts are tried and true calorie-burners, but they have numerous other benefits. High-intensity movements raise your metabolic rate for hours after exercise, build muscle, reduce heart rate and blood pressure, and even increase oxygen intake.  
3.) Emphasis on mental health
The events of the past year have placed a large emphasis on mental health and the things that affect it, both positively and negatively. Depression, anxiety and other mental illnesses reached striking levels in 2020 as a result of sickness, grief, isolation and disrupted social routines.
While there are many ways to cope with mental illness, exercise is a great start. It's proven to help reduce stress, increase confidence and lead to a more productive lifestyle. Physical activity releases endorphins and other natural brain chemicals that enhance one's sense of wellbeing. Plus, exercise offers a way to connect with others, which also has notable positive effects on mental health. 
4.) Group Training
There are significant benefits to be found in working out with a group or in a group setting. Researchers from American Osteopathic Association found that working out in a group lowered stress by 26 percent and significantly improved participants' quality of life, while those who exercised individually exerted more effort but experienced no significant change in their stress level and a limited improvement to their quality of life.
5.) Drop-in Classes 
Gym contracts are rapidly becoming a thing of the past. Preferences change quickly and often, so people prefer not to commit to a yearly gym membership. Gyms that implement drop-in classes with a set rate per class often see a notable increase in revenue. 
Plus, drop-in classes are highly appealing to regular travelers. These classes offer great options for people on the road, and if they're frequent guests to the area, they're more likely to return in the future. 
6.) Online Training
COVID-19 presented gyms and fitness centers with a unique challenge: how to engage customers from a distance. Digital streaming and virtual classes provided a user-friendly and user-focused solution.
Amid the pandemic, many tuned into the YouTube channels of their favorite exercise instructors or utilized training videos provided by their own gyms. These, in large part, helped people stay active and fit when in-person gyms weren't accessible.  
7.) Exercise Apps
2020 saw an influx of exercise apps like Peloton, Nike Run, MyFitnessPal, Fitness Buddy, and Train Heroic. These apps and programs offered users access to "personal" coaches and workout programs. Plus, users are typically able to track their progress throughout a workout and more broadly, throughout their fitness journey.
8.) Hybrid Offerings
A hybrid fitness program combines in-person and online offerings. Going to the gym has its perks: increased motivation, access to equipment and more. But with remote work becoming more commonplace, many have implemented quick workouts at home around their work schedules or over lunch breaks. Virtual classes offer the perfect outlet for those looking to engage in quick, equipment-free workouts at home while live stream workouts instill accountability by replicating the feeling of exercising with others. With so many exercise possibilities, hybrid gyms offer the flexibility many are looking for. 
9.) Outdoor Training
Similar to group training, outdoor exercise has been more sought after since the widespread closing of gyms and fitness facilities due to the pandemic. Activities such as biking, running and hiking have risen greatly in popularity this year, and 39.4% of gym members are switching to these activities. Additionally, 59.1% of active adults chose outdoor activities as the best way to stay fit in 2021, up 14.6% from the start of 2020.
10.) Functional Fitness Training
Functional fitness is hugely popular this year as well. As individuals began to focus more on staying healthy and finding alternatives to gym-going, functional fitness full-body workouts took the spotlight. These exercises use multiple joints and muscles to build overall body strength and aim to make everyday activities easier. Functional movements help reduce risk of injury and improve general athleticism, flexibility, coordination, muscular strength, and balance. 
The fitness world is constantly evolving as new research findings, technology advancements and new trends come about. To learn more about how fitness is evolving as we approach a post-pandemic world, read our blog about the return of martial arts schools in 2021.