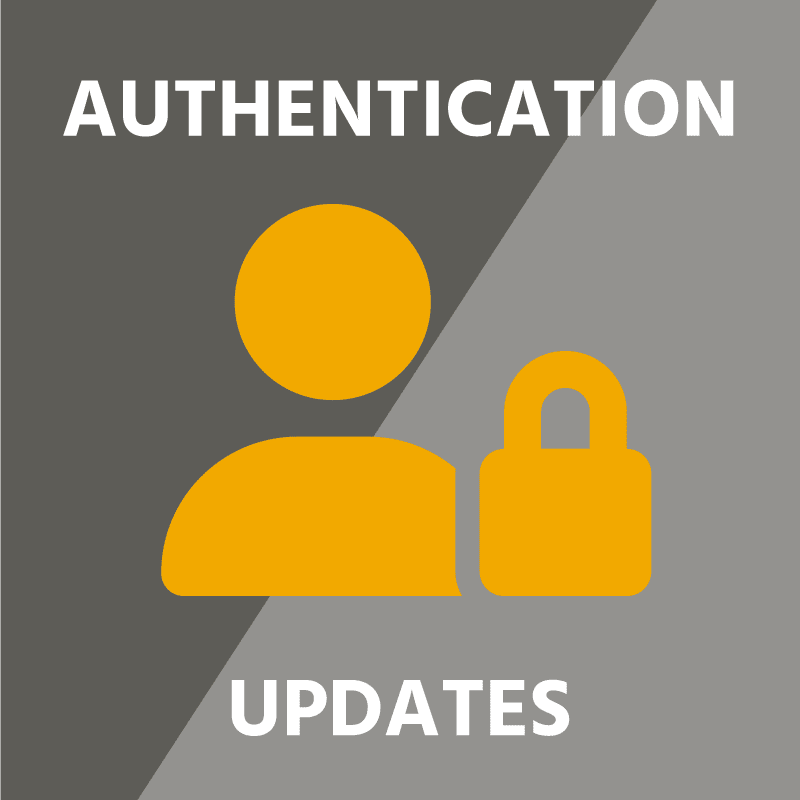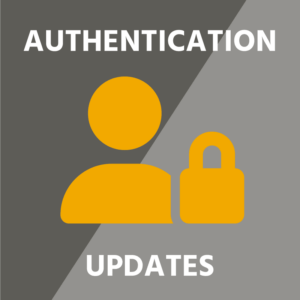 At Kicksite, we are always striving to provide best-in-class software for our customers. Often, this work results in updates and improvements that are easy to see: redesigned pages, new features, improved experiences, etc. Other times, these behind-the-scenes efforts are less visual, but equally important and absolutely necessary. 
Next week, we will be rolling out authentication updates that fall into the latter category. While these updates won't change a whole lot in terms of your everyday experience using Kicksite, they will ensure vastly improved security for all Kicksite users – admins, employees and students alike.
The quick summary of these updates? Some Kicksite users will have their username automatically changed on Tuesday, September 27, 2022. This includes not only student accounts, but also admin and employee accounts, and accounts used to access the check-in screen.
Why are some usernames being changed?
Up until now, duplicate usernames could exist across Kicksite, just not at the school level. For example: someone at School A could have the username asmith. Nobody else at School A could have asmith as their username, but someone at School B would be able to also use asmith as their username. 
As part of this authentication update, starting Tuesday, September 27, 2022, duplicate usernames will no longer be accepted across the Kicksite platform as a whole. While there was/is no risk of users with duplicate usernames seeing each other's information, this change greatly improves overall security and privacy for anyone accessing the software or member portal. 
And, as an added bonus, admins and students will no longer have to remember or enter their subdomain to log in to Kicksite! All users can simply go to www.kicksite.net and enter their username and password, and they'll be taken directly to their associated account. 
How will my students, my employees and I know if we are affected by this update?
When the authentication updates are pushed live, an email will go out to all affected users letting them know that their username has been changed and showing them what their updated unique username is (see example below). They will also have the opportunity to click through to their My Account page and customize their unique username to something else, if they prefer.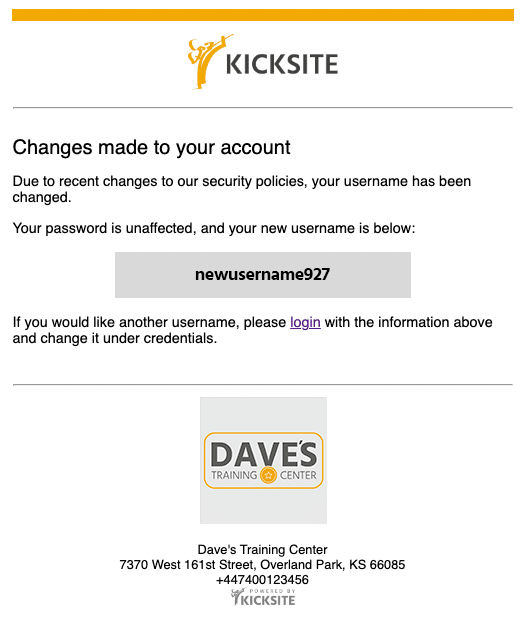 Does this affect passwords too? 
Nope! Your password will stay the same for now. 
That being said, we are also implementing new password rules with this update. The next time any Kicksite user needs to reset their password, certain requirements will need to be met to ensure enhanced security.
What if I/my employees/my students don't receive the email? 
If you don't receive the email on Tuesday, September 27, the most likely scenario is that your username did not require a change because it is already unique and not a duplicate. You may also want to check your Spam folder just in case the email landed there. And to be absolutely sure, you can log into your Kicksite account, go to your My Account page, and look under 'Credentials' to verify (or edit) your username.


My student can't figure out how to change their own username. Can I do it for them?
You can! Admins now have the ability to update a student's username from their Student Profile. Simply click the 'User Account' section in the Student Profile to expand it and edit that student's username.
I still need help or have questions. What should I do?
If you run into any obstacles, our Success team is here to help! Just submit a ticket or reach out to support@kicksite.net and we'll be in touch.