You can use more than one type of membership within Kicksite, and you can also attach more than one membership to a student:
Memberships can be assigned in the Student Profile.
Multiple memberships can be assigned to a student.
You can use punch card memberships for by-class memberships:
A virtual punch card can be created by selecting to track by attendance when you attach this membership. For example, you can attach a Private Lesson membership and set the attendance limit at 5 attendances (if the student pre-paid for 5 lessons).
Kicksite keeps track of the number of attendances each time a student checks in to the corresponding program.
To attach a punch card membership to a student:
1. Go to the student's profile. (Start typing the student's name in the Search field and click the correct name in the results. Alternatively, click Profiles and then click Students in the left panel; click the student's name in the Student List.)
2. On the Classic profile, click the Memberships tab. If you're using the new Student Profile, click Memberships and then click the Add New button in the Memberships module. You will then go to the Classic Profile page with the Memberships tab selected.
3. Select the desired membership from the Membership drop-down list.
4. Select the Attendance option.
5. Select a specific program in the Select a Program drop-down list.
6. Enter the number of  attendances are allowed for that program in the Total Attendances field.
7. Click the Add School Membership button.
This membership tracks by attendances, not dates.
​To attach a family membership:
You can attach a membership to a family:
Family memberships can be assigned to students.
Note that the highest-ranking family member should be attached to the family membership first.
After the family membership has been set, other members of the family can be added.
Family memberships can be found in the same memberships tab in the student profile.
If the student associated with the family membership is frozen or inactivated, the membership must be recreated under the next family member.
​
To use association memberships:
Association memberships can be assigned to students.
If a studio is part of a martial arts association, Kicksite enables that studio to maintain and manage association memberships.
These memberships can also be found in the student profile under the Memberships tab.
To use membership reports:
Membership reports can be found on the Dashboard. The Dashboard shows the memberships that are expiring as well as expired.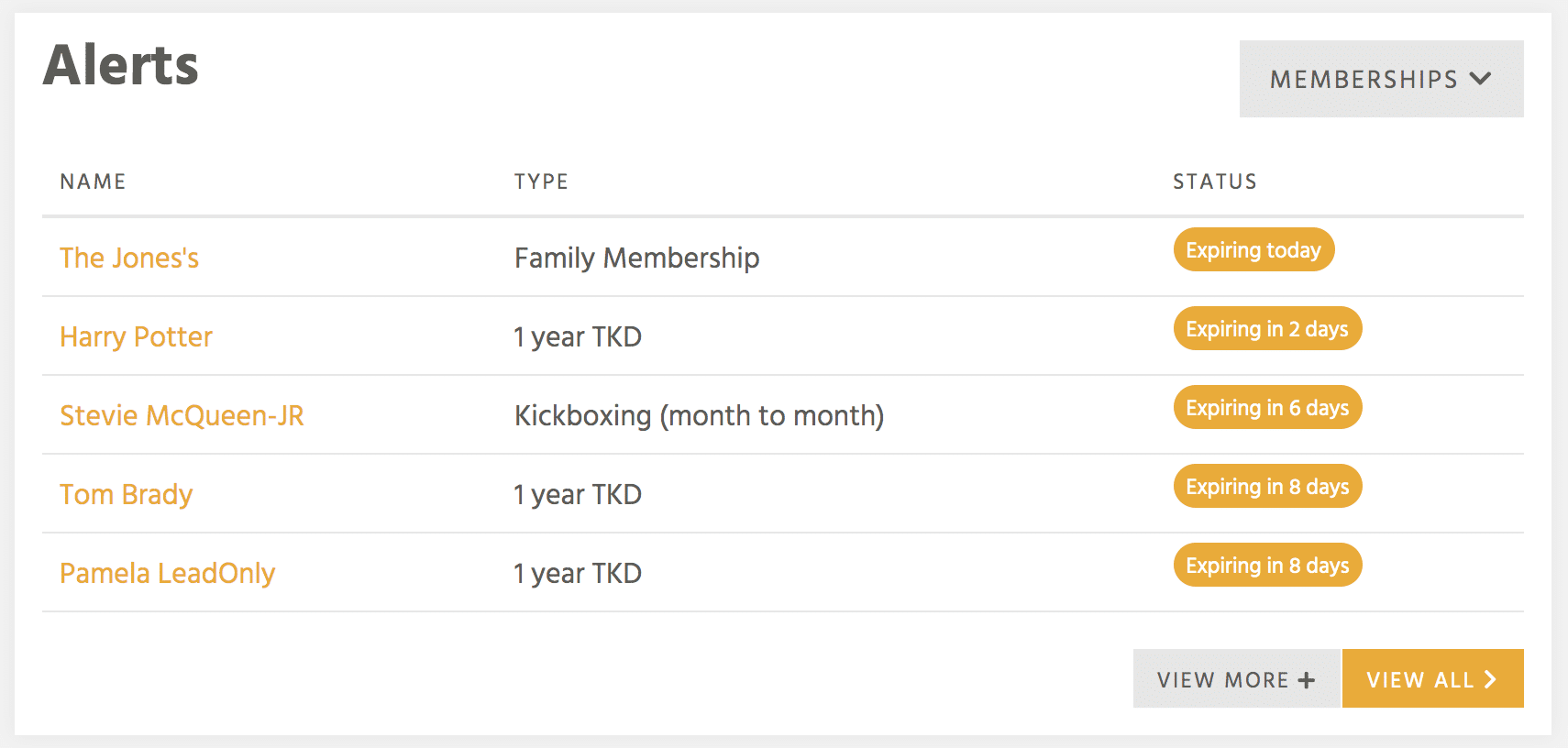 (If you don't see memberships, on the Alerts box, click the drop-down list and select Memberships.) You can export membership data by clicking View All. (Or click Quick Links, click Memberships, and then click School Memberships.) Click the Export to Excel button (under Filter Memberships) to export all memberships. (You may need to wait a few minutes for all memberships to load before you export, especially if you have a large number of memberships.)

​