Student Member Portal Overview
Kicksite updated the student user experience to provide a mobile friendly environment and to provide students with more functionality.
This article provides the steps to download the mobile web app to a smartphone; it also provides a feature overview of the new Member Portal. Click the links in this article for more details on the interactive features.
Note: This article is for students; if you are an admin or employee, click here to find out how to invite students to their Member Portal.
How to download the Member Portal mobile web app on a smartphone
Check your email for the invitation to set up your user account. (Keep in mind that the message may be in your Spam folder; you will need to mark the message as "Not Spam" before you can click the link to download the mobile web app.)
If you already have a user account, you can log in using a web browser app (such as Chrome or Safari) on your smartphone. Tap the Install button to install the mobile web app (see the screenshot on the right below). You can then use the Kicksite icon on your home screen to go to your Member Portal.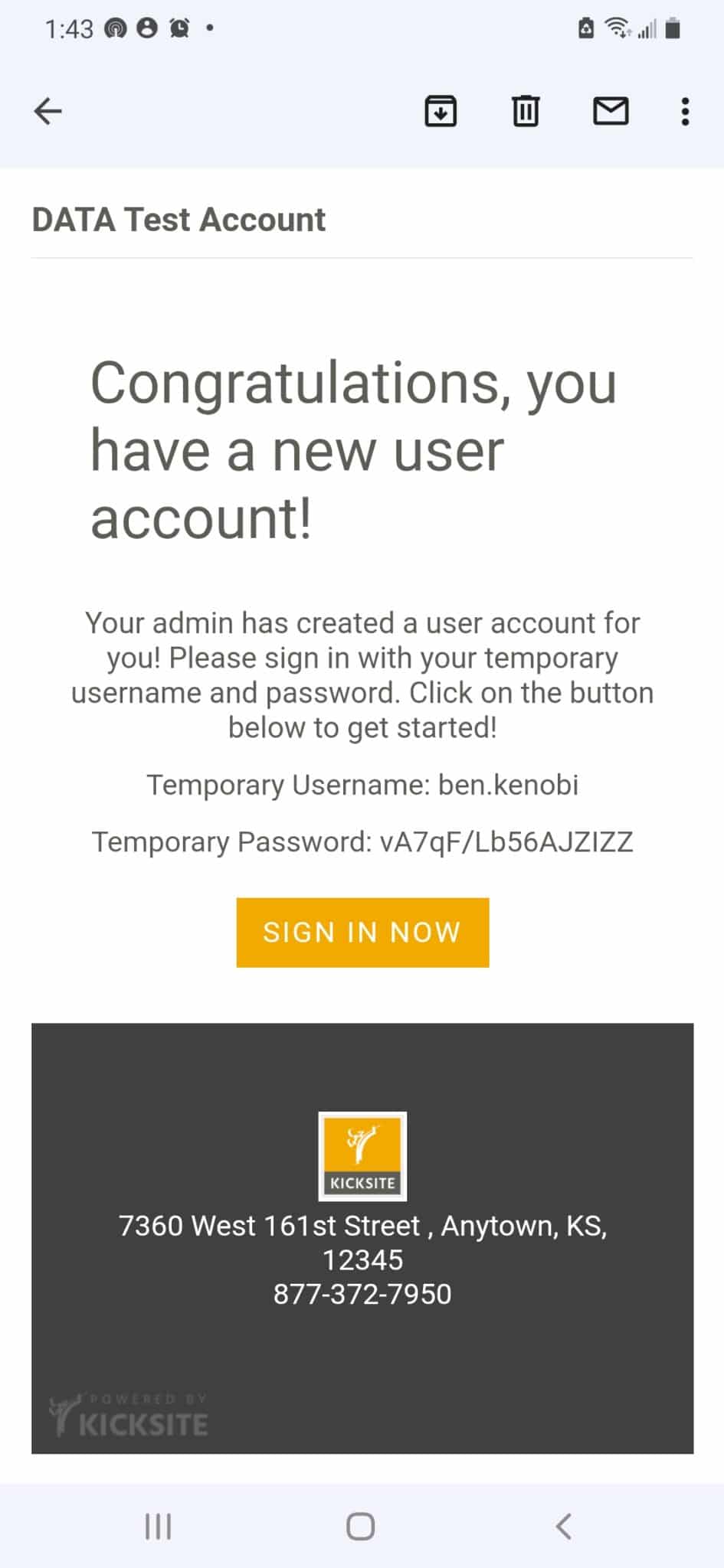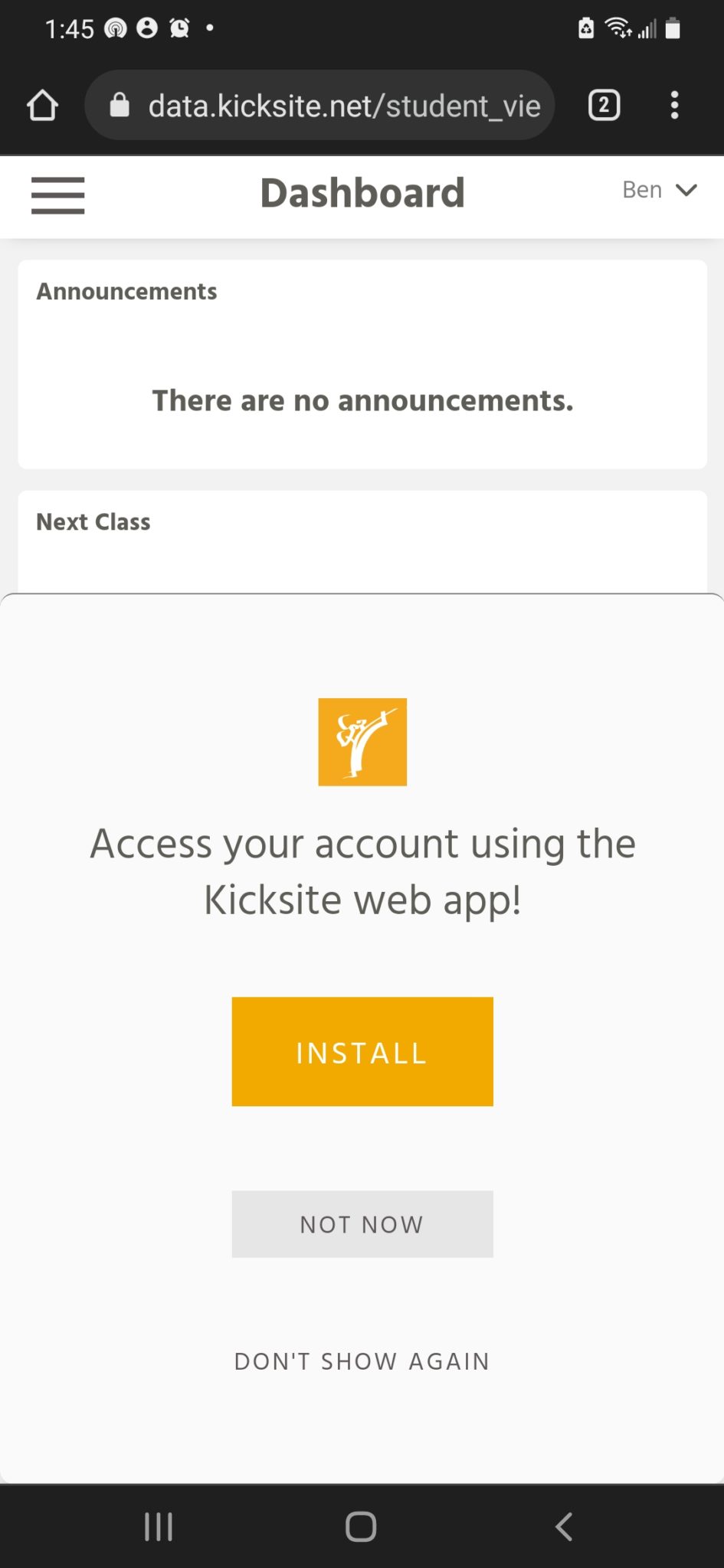 To install the mobile web app on a smartphone from the student user account invitation:
1. Open your email app and then open the invitation email; the subject will be "Kicksite User Account".
2. Recommended: Tap and hold on the password, and then tap Copy.
3. Tap the Sign In Now button in the body of the email. (See the screenshot to the far left of this list.)
4. Tap the Install button. (See the screenshot just to the near left of this list.)
5. Tap Install on the box that appears.
6. Go to your Home screen and tap the Kicksite icon.
7. Enter the temporary username and password (long tap and then tap Paste to paste in the password) from the email message, and then tap Log In.
Keep in mind that these steps may vary a little, depending on what smartphone you're using. The screenshots above were taken on an Android smartphone; an iPhone will look slightly different.
If you're accessing your Member Portal on a computer or tablet, you may not see the option to install a web app. Instead, you can access your Member Portal from your web browser. You can log in at kicksite.net. You can also log in at your school's specific URL, which will be https://yourschoolname.kicksite.net, where yourschoolname is the unique subdomain for your school.
How to navigate the Member Portal
When you log into your Member Portal, you see the Dashboard. The Dashboard shows the latest Announcements, Latest Achievement, Next Class, and Upcoming Events. All these sections contain a View More link that you can click or tap to see all items in that section.
The screenshot on the left below is on an Android smartphone; the screenshot on the right below is on a computer.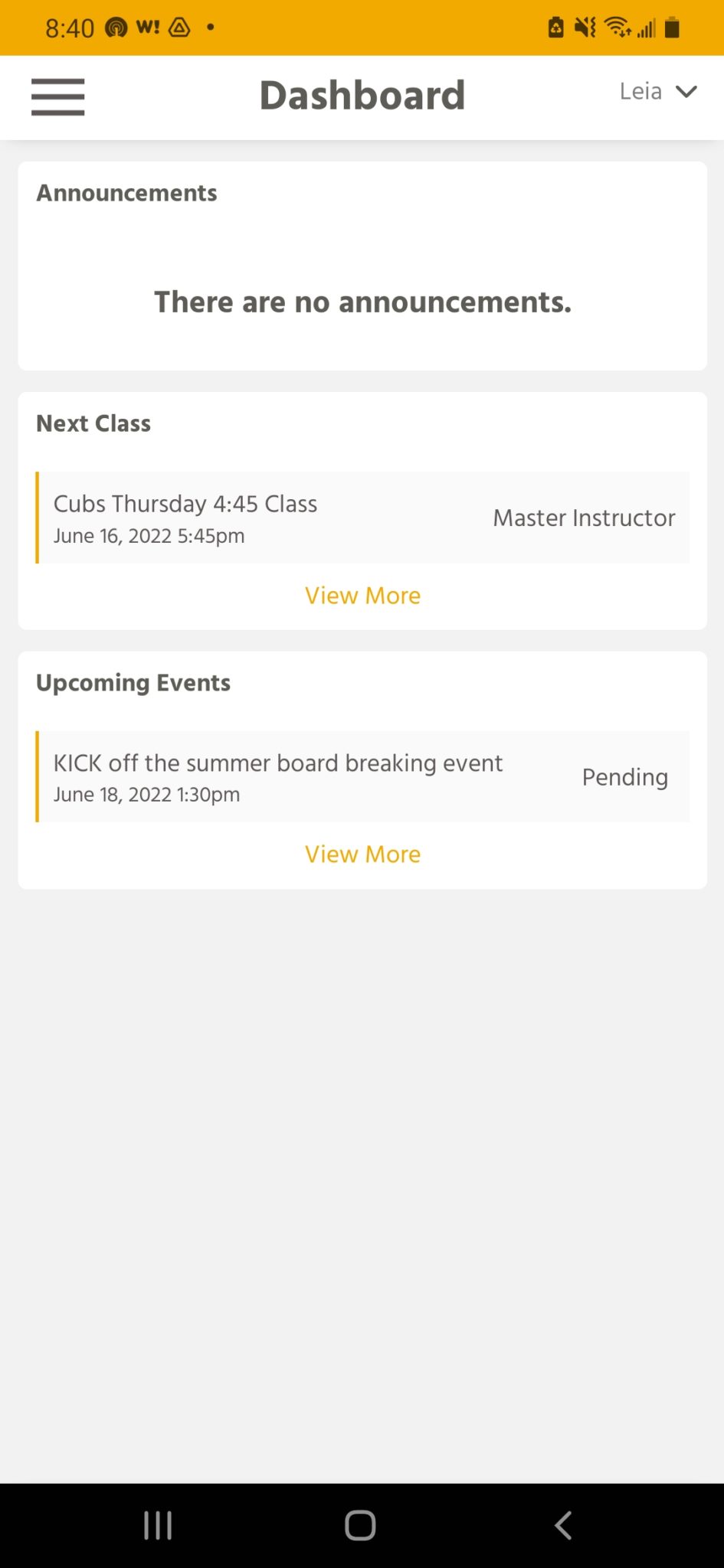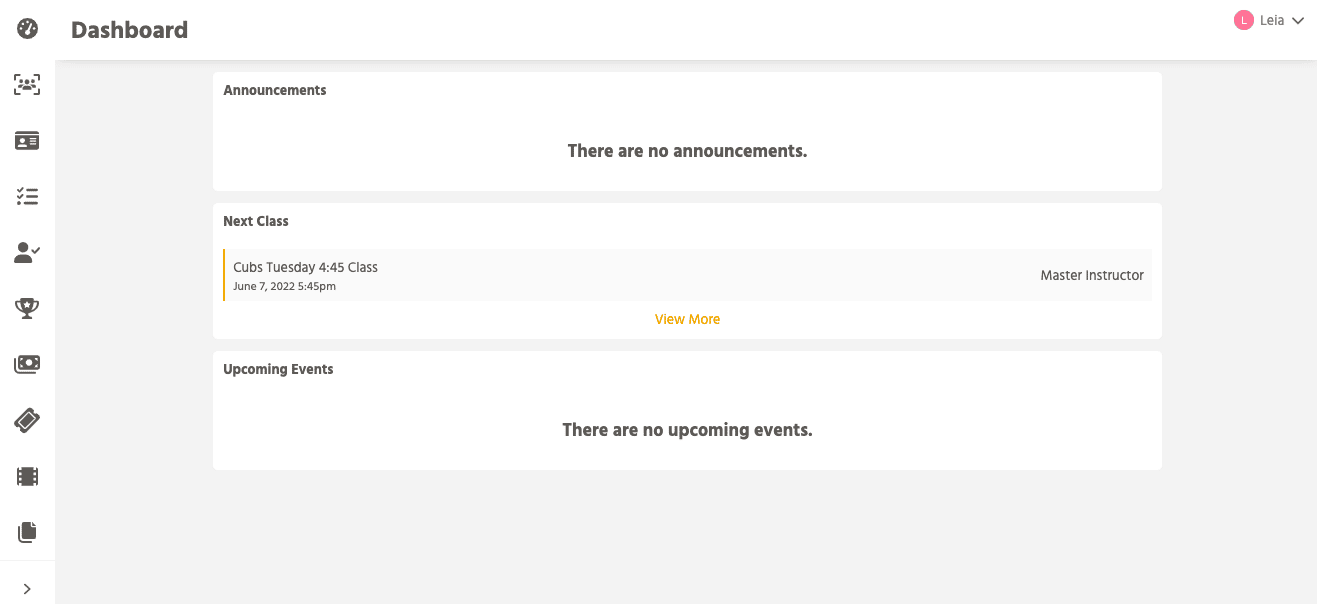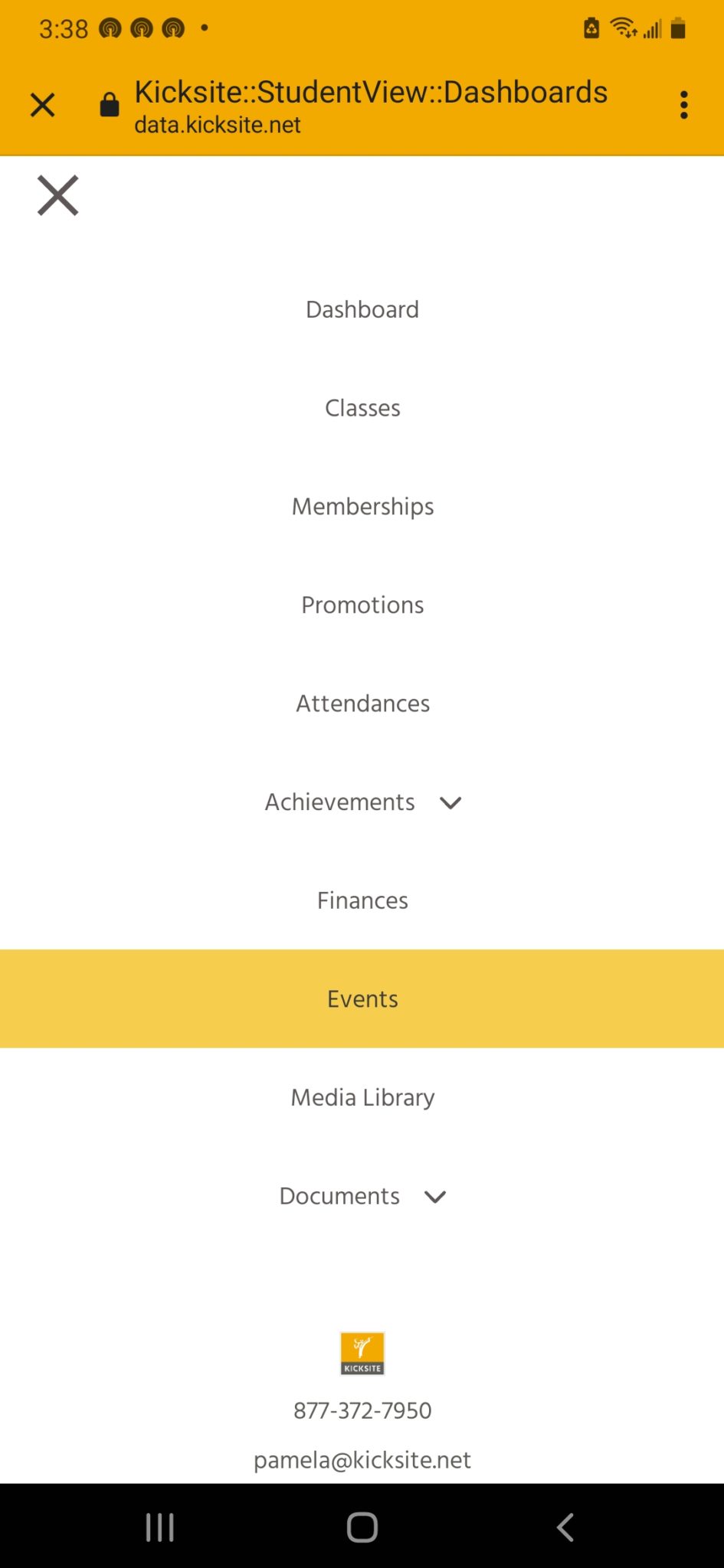 On a computer, you can see a panel on the left with icons to help you navigate the Member Portal. If you're on a tablet or smartphone, tap the hamburger icon (the three horizontal lines) in the upper-left corner to access a menu; this menu contains the same options as the left panel.
Dashboard: Navigate back to your Dashboard.
Classes: View and select classes to reserve your spot for a particular class. (Click the hyperlink for more details.)
Memberships: View your memberships.
Promotions: View your promotions.
Attendances: View a list of your check ins; you can see the program, rank, date, and time you checked in for class.
Achievements: Click or tap Achievements and then click or tap Awards List to view the awards you've received.
Finances: If your school does not process payments with Kicksite, you will see Invoices and Payments. If your school does process transactions through Kicksite, you can click or tap to view your Invoices, Recurring Billings, Payments, and Wallet. (Click the link for details.)
Events: View the events you've been invited to, as well as the status (Pending, Registered, or Declined).
Media Library: View the folders, documents, and videos your school has posted. Documents and videos can be restricted to view by rank, so you may have access to more videos after you promote ranks. (For example, as a Green Belt, you may have access to the White Belt form video, Yellow Belt form video, and Green Belt form video, but you can't view the Blue Belt form video until you're promoted to Blue Belt.)
Documents: Click or tap Documents and then choose:

School Documents: View any documents the school has posted.
My Documents: View your signed agreements and any other documents uploaded to your student profile.
Click or tap your name in the upper-right corner. From the menu, you can: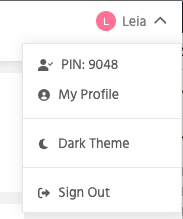 PIN or Check In Barcode: View your PIN number. This is the number you will type in on the student check in screen to log your attendance. (Many schools will have a tablet or computer that you can use to check in.) If your school uses a barcode scanner, tap Check In Barcode to bring up a barcode. Hold it up to the scanner to check in for attendance.
My Profile: Update your Basic Information (Photo, Name, Birthdate, Sex, Language), your Contact Information (Phone, Email, Address), and Credentials (Username and Password). (Click the link for more details.)
Dark Theme / Light Theme: Switch between Dark Theme and Light Theme.
Sign Out: Log out of your member portal.