How to Export the Attendance Log Report
You can export the Attendance Log as a .csv file to review attendances. Keep reading for details.
First Steps
You may want to add Testing Eligibility settings; this will enable the Attendance Log report to export the Days at Rank and Classes at Rank.
To export the Attendance Log report:
1. From the left panel on the Dashboard, click Attendance, and then click Attendance Log.
2. On the right side, under Search Attendances, choose the time frame in one of the following ways:
Select a preset time frame from the drop-down list.
Click the Custom link, and then select the Start and End dates. (You can click the calendar icon to select the date from a calendar picker.)
Note: Leave the Group by Student check box unchecked if you want to see the Days at Rank, Classes at Rank, and Attendance Awards in the exported file.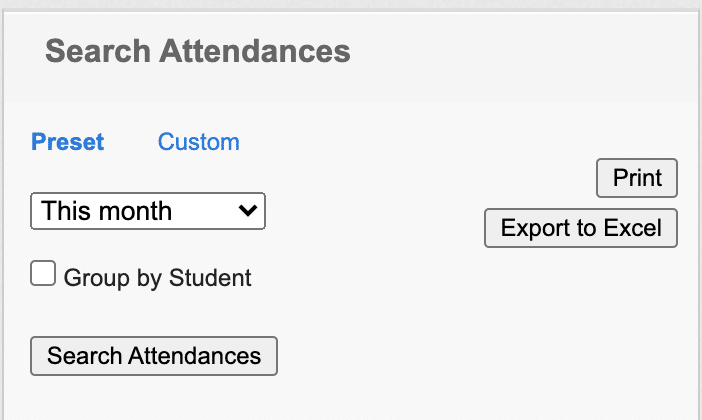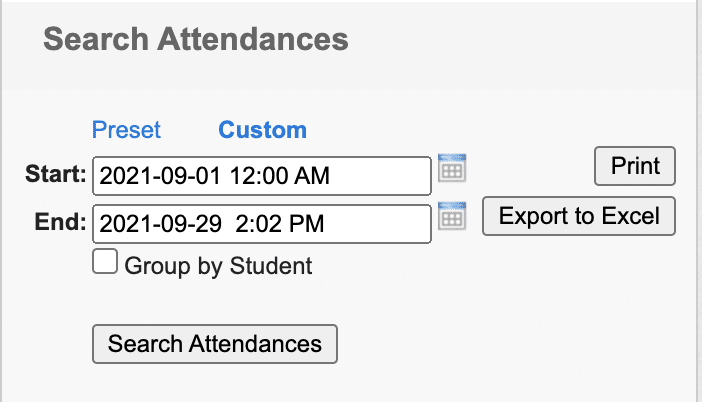 3. Click the Search Attendances button. The attendances appear in the list on the left side.
4. Click the Export to Excel button to download the .csv file.
You can then open the downloaded file (the file name will start with "Attendance Report for") in Excel or another spreadsheet program. You can use your spreadsheet program to sort and filter if you need to narrow down the results. For example, sort the First Name and then Last Name columns to put the report in alphabetical order by name. If you need to see attendances for a particular program, click the Filter button and then select only the desired program on the Program Name column.

What's Next?
If you haven't already, consider enabling Attendance Awards to reward your students for attending consistently every month.