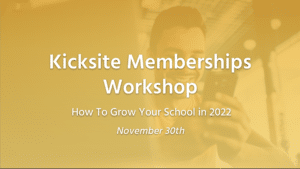 In this Kicksite Webinar, sales team member Mike Selck, will be walking you through the latest update to Kicksite- memberships and programs. This new uplift will be extremely beneficial to your business, because it allows you to sign up new members online, in less than a couple of minutes! We see it all the time, prospects leave without signing up because there is too long of a line. Well not anymore! With this new memberships update, you will be able to have a prospect sign up on a tablet, computer, or phone within only a couple of minutes! Make sure to download this webinar to learn how to take advantage of this feature today.
This webinar will cover:
How to navigate the new Kicksite membership uplift
How you can create and use the programs, memberships, and lead capture forms
Signing up new members in minutes
To help save some time, here is a quick breakdown of some key points for you to skip to:
Skip to 10:30

Background into the evolution of consumer behavior

Skip to 16:10 

Full memberships
Skip to 22:30 How to sell memberships online through Kicksite (setting up programs)

Skip to 29:30 

Setting up memberships in Kicksite 

Skip to 37:10 

Adding in an agreement or waiver

Skip to 40:20 

Creating a lead capture form 

Skip to

 42:35 Creating your landing page
For more resources and past Kicksite webinars, you can visit our website here.