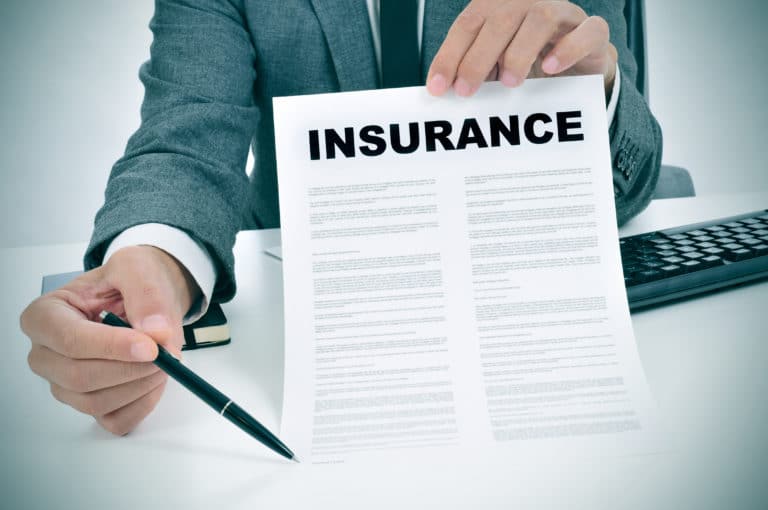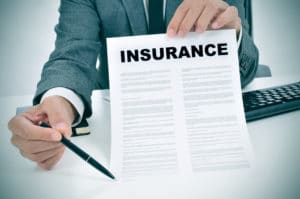 Not everything is equal. Side kicks are not all the same height; not all the same power; not all equally target specific. Reverse punches do not all have the same rotation; do not all have the same full body involvement; do not all have the same quick recoil. These differences are ok; not every situation needs the same level of defense.
Insurance has the same types of differences. The defense it provides varies from policy to policy. Your best defense is making an educated decision balancing risk protection against cost. I recommend that you know what you are choosing to "self-insure" against.
A big IMPORTANT to know, where liability is concerned, if something is not covered, you don't get an attorney provided to defend you. You will be on your own hiring an attorney.
Here are 22 insurance issues you should be familiar with:
1.) Additional Insureds – Many venues may need to be an additional insured on your policy. This includes the child care center where you teach a class, the park in which you hold outdoor classes, and the location you conduct graduation at. Does the insurance company provide for all of these at no charge?
2.) Guest Instructors – Does the liability insurance protect you for the actions of a guest instructor? If not, can you buy it?
3.) Tumbl Trak/Inflatable – Do you have either of these items? Does your liability insurance protect them?
4.) Nonmember Activities – Does your liability protect a "Bring a Buddy to Class" event?
5.) After School Martial Arts – Does your insurance provide protection for after school events?
6.) Summer camp – Does your insurance provide protection for summer camps?
7.) Birthday Parties – Does your insurance policy include birthday parties in the cost of your liability? Does it charge extra for each party?
8.) Classes Outside the Studio – Does your insurance provide coverage for these classes?  If not, can you buy the coverage?
9.) Risks Transferred by Landlord – Your lease probably makes you responsible for clients and guests' injuries in the parking lot, sidewalks, and inside your studio. Do you know exactly what you signed?
10.) Liability Limits – How much will your insurance pay if you are sued? Do you have assets that total more than that limit?
11.) Abuse and Molestation – Do you have this insurance? Does it pay for your attorney representation at no cost to you?  
When deciding what to buy, property insurance is a big area of conversation. Many studio owners think they don't have enough to insure, but don't be fooled – if you're working at your studio full-time, this isn't always the case. On that note, let's talk property insurance:
12.) Requirements From Your Landlord – Typical leases require the tenant to insure things such as…
Air Conditioning Units –

If you're responsible for the AC, do you have equipment breakdown coverage? This will protect you from an AC that is hit by lightning or has electricity arcing.

Build-outs –

Build-outs include bathrooms, offices, storage closets, light fixtures, and floor coverings. Without insurance coverage, do you have the money for a new build-out?

Personal Property –

Many commercial leases require you to insure your "stuff." The landlord's logic is that you cannot operate your studio without your mats, bags, and other equipment. Beyond the landlord's interest, would you have the financial ability to replace these things without an insurance check?
13.) Loss of Income – This replaces the income you lose while your studio is closed. Some insurance companies include a standard amount (typically $50,000) in property coverage. You are only eligible to get this type of claim paid if the property claim is covered by the policy. For example, property insurance policies exclude viruses as a cause of loss, meaning COVID-19 is excluded.
14.) Deductibles – All property insurance policies have a deductible, or the amount of the loss you have to pay. Many of the policies available to martial arts studios are $1,000.
15.) Coinsurance – This is based on the idea that if you don't insure the full value of your stuff, you will participate in your claim for more than just your deductible. Don't sweat, we've made this easier with the following math problem: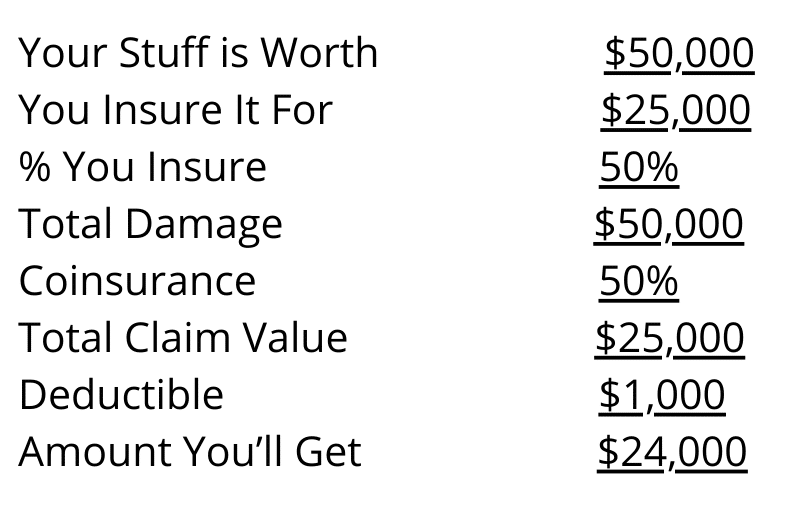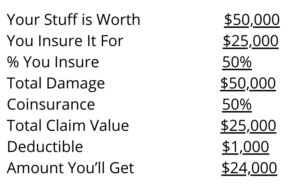 16.) Replacement Cost Value – Ever heard the concept of getting new for old? Think about it this way – your mats are 20 years old but the insurance company pays you for brand new mats to replace your the old ones!
Now that we've covered property insurance, let's pivot to auto insurance. Whether you're transporting students to an after school program or a tournament, commercial auto insurance is a necessity.
17.) Liability Limits – What is the limit of coverage? Let's say you have a 15 passenger van and a liability limit of $100,000. In an accident, your insurance provides only $6,666.67 per passenger. Is that enough?
18.) Uninsured Motorists – What happens if the other vehicle is at fault and doesn't have insurance? This provides protection for your passengers.
19.) Physical Damage – This provides protection for your vehicle if damaged.
20.) Deductible – This is what you must pay for the loss to your vehicle after an accident.
21.) Actual Cash Value – This states you will be paid for a loss to your vehicle based on its current book value minus your deductible, regardless of what you owe on the vehicle.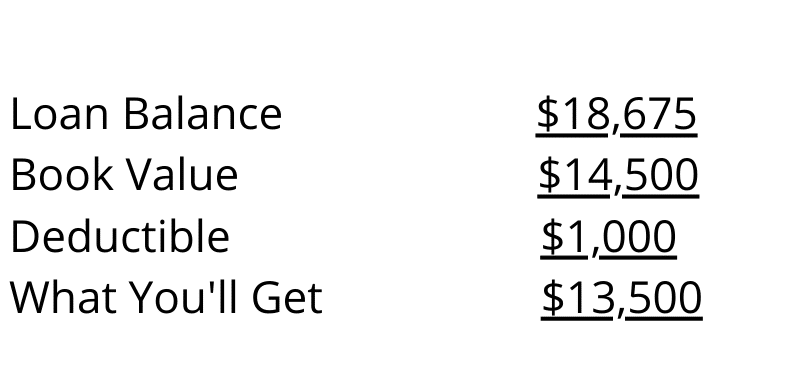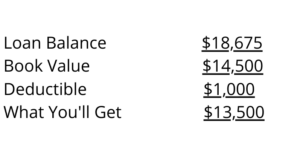 22.) Workers Compensation – Each state determines how many employees you must have before you're required to buy insurance. Whether or not you are required by law to buy coverage, you are liable for your employees' injuries. You cannot buy any insurance to protect you from their medical bills or lost wages, other than work compensation. With work compensation, you can't be sued by an employee unless you are seriously negligent.