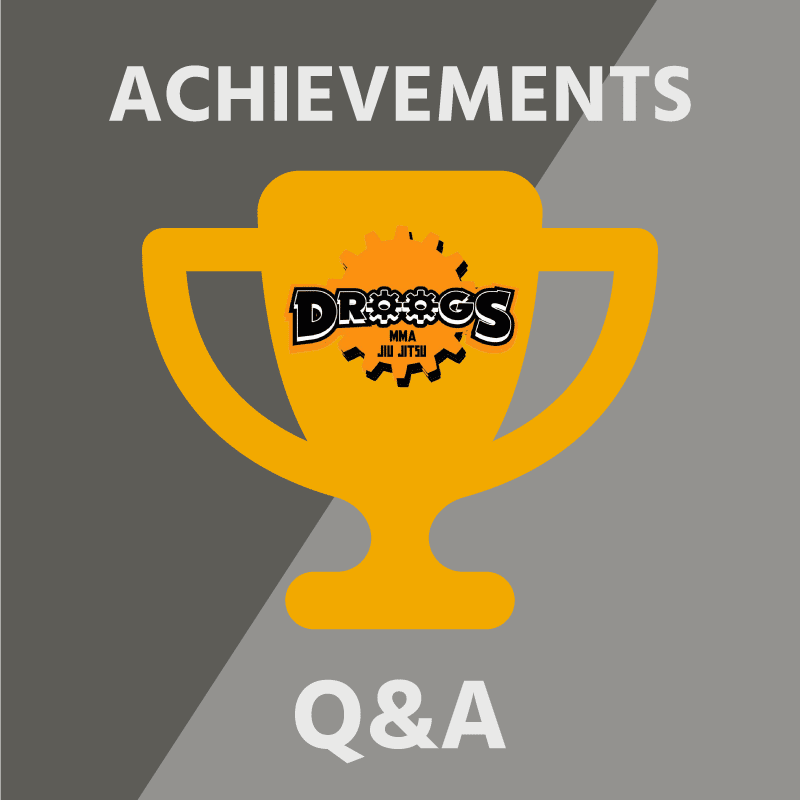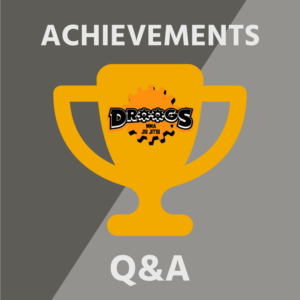 When we introduced our new member portal in June 2022, we also rolled out an engaging new tool: Achievements. With Achievements, you can create highly customizable awards for your students and members to recognize significant milestones in their training – or, just for fun! 
We've seen a number of our customers taking advantage of the Achievements tool, but one school is definitely going above and beyond when it comes to utilizing this feature: Droogs MMA & Jiu-Jitsu in Pottstown, Pennsylvania. 
Droogs has set up an extensive list of achievements in Kicksite to incentivize all kinds of student participation beyond training and attendance: leaving reviews of the school on social media, using the Kicksite mobile web app, and even cleaning the facility. We reached out to the awesome folks at Droogs to pick their brains and get a deeper glimpse into their unique use of the Achievements tool.
First off, tell us a little bit about Droogs. What inspired you to open your school, what makes you special, and what keeps you motivated?
Droogs means friends which is exactly why we chose to name our academy this.  The four business owners behind Droogs are four close friends (two couples) who met at our head affiliation, Paramount BJJ, in Downingtown, PA.  We had only known each other a couple years but two of us (AJ & Cathryn) had been dreaming about opening a Jiu Jitsu academy and we wanted to find someone(s) to supplement that academy with an MMA and striking program.  Once we met Dan and Emily, everything just came together.  Our inspirations draw from wanting to cultivate a positive community, bring a safe space to the local area, develop a high-level competition gym for those who are interested and create a legacy for those who will come after us. We are motivating intrinsically through competing, training and teaching.  We are also motivated extrinsically from each other and our students who are progressing at an incredibly fast rate. We are special because we are personally invested 100% in our students. When they sign up with us, they are not just signing up for a membership, they are signing up to be a part of our family, culture and lifestyle.
We recently rolled out a new Achievements feature at Kicksite, and you all are using it in a really cool and effective way. Tell us about your approach to creating Achievements.
We decided to use the achievements to recognize our students not just as martial arts, but also as people in life doing awesome things.  We want our students to know that we see what they are doing, both on and off the mats, and that we award them "achievement points" for bettering themselves in life.  Students can get points for a variety of things including doing well in competition, earning stripes, being consistent, helping new students and more on the mats.  Off the mats, they can be awarded for cool things in their daily life like starting high school, getting a promotion, donating to charity, etc.  Dan, one of our instructors/owners, even gives himself the "hunk of the month" achievement every month.  These points translate to eventual prizes.  These achievements aid in boosting comradery and increasing engagement… They also help us get students to clean our mats (HAHA!).
How has reception been to some of the unique awards you've created? Do you find that students are more inclined to participate and stay involved knowing they can potentially be rewarded?
This is an amazing question because now we have students lining up to mop the mats in order to get achievement points.  We definitely think our students are encouraged to participate through achievement points.  We think that these achievements not only help motivate our students further, but it also helps our students feel like we truly see how special and unique they all are.  For example, one of our students has completely changed his lifestyle through jiu jitsu, our fitness class, striking and healthy eating.  This has resulted in a 20-pound weight loss thus far.  He is even more inspired to continue on this path because he knows that we see him trying his hardest in here.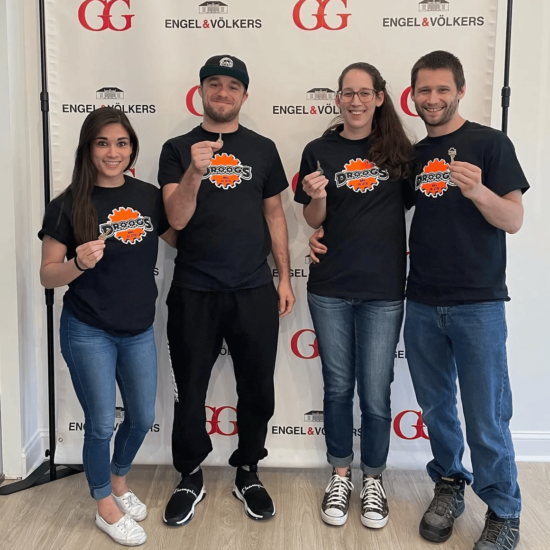 What's your personal favorite Achievement that you all have created so far?
Dan's favorite achievement is Hunk of the Month because he "wins" it every month.  Cathryn's favorite achievement is the "You Can't Teach Heart" achievement, which is given to the student who constantly demonstrates showing heart both on and off the mats.  They are self-motivated and always ready to improve/never give up.  AJ's favorite achievement is "We Heard What You Did," which is acknowledging an individual's little victories in life.  Emily's favorite achievement is "The Badass Lady" for the women who are not afraid to get out into a sport where there are more males and take it in stride.  They empower themselves and they uplift one another.
What would be your advice to other school owners who are hesitant to use or haven't started using the Achievements tool yet?
Achievements is your chance to be creative and think about all the cool reasons why your students are special to you.  They are easy to find and use in the quick links tab and both you and your students will feel happier overall.  It costs you nothing to tell someone that they are crushing it!  It's a free tool to use to boost engagement.
If you could create a special Achievement for Kicksite, what would our award be?
We would name our award for Kicksite, "The Work Smarter, Not Harder Awarder," which is given to the software company that is all inclusive for what we need as a mixed martial arts gym.  Kicksite helps us keep track of finance, memberships, absences, merch and has the option for a website.  You can do it as an admin anytime from anywhere and someone is always available to help us.  It also does not kill all our finances (being a startup business) because Kicksite is fairly priced.  We did consider other names for this award and some of our other ideas were: "The 25/7 Software Award" for being always accessible, "The Best Bang for Your Buck Award," and the "The Doing Our Job For Us Award."