How to Create a New Employee
Employee accounts enable your staff to have their own logins to your Kicksite account.
Note: Only an administrator can create an employee.
To create a new employee:
1. Click Quick Links in the left panel, click Employee, and then click New Employee.​ Alternatively, click your username in the upper-right corner, click Employees, and then click the Add New Employee button at the top right.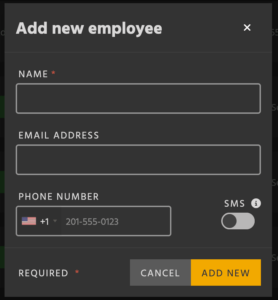 2. In the Name field, type the employee's first and last name. (If needed, you can include a middle name, but it is not required.)
​3. Enter the email in the Email Address field (you need to add an email address to create a user account).
4. (Optional) Type a phone number in the Phone Number field; click the SMS toggle if you want the employee to receive texts.
5. Click the Add New button.
To restrict access to features:
If needed, you can restrict the employee from accessing certain features from their employee account.
1. Click the new employee's name in the Employee list.
2. The Employee Profile page appears; it looks and functions much the same as the Student Profile or Prospect Profile page. If you click Bio, you can edit or add contact information about the employee.
3. (Optional) To restrict the employee from receiving communications about appointments and/or tasks, in the Contact Information section, click the Daily Appointments and/or Daily Tasks toggles to off. Click the Save button if you made a change.
3. In the Feature Access & Permissions section, click a toggle to turn off that feature or permission. Click the Save button if you made a change.
(The screenshot below shows an account with all features and permissions turned off because this employee account is meant for attendance check in only.)
4. Click the User Account section in the left column, and then click the Create button. A link to sign in will be emailed to the employee at the email address you entered in the Add New Employee pop-up.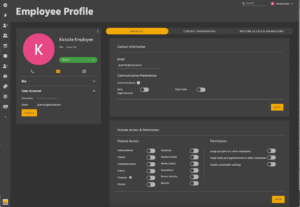 For the employee: Sign in and update the account password:
Check your email; copy the password, and then click the Sign In Now link in the email.
Sign into the new employee account using the username and password supplied in the email.
To update the password:
1. Click your username in the upper-right corner and then click My Account.
2. You may need to scroll down; in the Credentials section, click the Password row.
3. In the Current Password field, type or paste the current password.
4. In the New Password and New Password Confirmation fields, type the new password.
5. Click the Save button.
​