The Kicksite member portal is the powerhouse for you as the administrator and your martial arts students. Each student has access to their own individual profile where you manage attendance records, billing, groups, and even mass event invites or updates. You control what your students can and cannot see. Upload documents and videos to certain students in their individual profiles as well as the whole class. Update and manage membership fees. It's all at your fingertips.
Your Students, Your Control
Within each student's profile, you'll have easy access to various pages such as:
Comments
Memberships
Finance
Events
Attendances
Promotions
Documents
Communications
User
Each member profile houses a complete overview including their rank, contact information, any tasks you have set up with them, and the ability to control membership. With just a click, you can freeze a taekwondo membership or label a BJJ student inactive. Organization is key when membership is up and keeping track of students becomes vital! You'll find peace of mind with your Kicksite member portal.
Send Mass Invites
With just a click, you have the ability to send out mass invites or messages. For example, if you have a whole class that is eligible for jiu jitsu belt rank promotion, you are able to not only send out a mass invite for a promotion event, but you can also control what the students can see in conjunction with the invite. Among these controllable views are attendances, documents, memberships, messages, payments, social networking and more.
What students see
As a user, a student will also have many capabilities for easy access to their information and membership. These main capabilities include:
Quick access to dashboard announcements, including a calendar outlook for events, testing, or any school hour changes/closings
View belt progress and upcoming events for promotion
Ability to accept, update, or decline event invitations and events on their calendar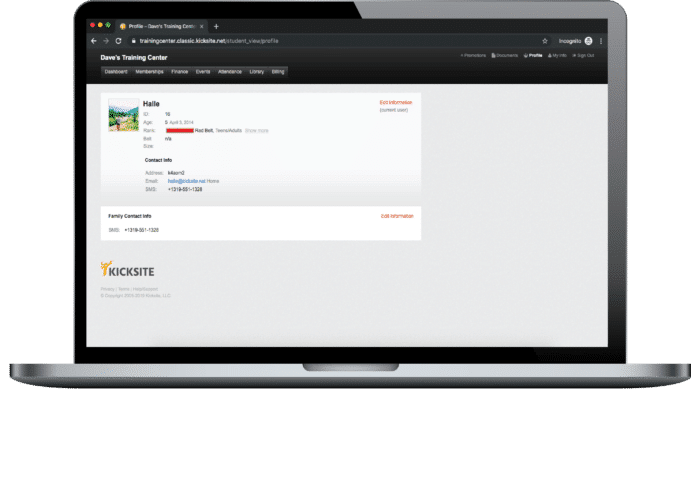 Groups
Family groups are an extremely useful tool for the student as well as the administrator. For example, the administrator can group individuals by family. Then, a Mother can access her children's martial arts records and pay fees online. She can view attendance records by month or by each class, and even view good attendance awards. Students have access to a "library" of videos and documents posted by the administrator for their viewing. Your students will have every capability they need to feel organized and successful as a member of your studio.
Kicksite member portal is not only your own, customizable tool but a way for you and your martial arts students to have open correspondence – leading to higher retention and complete communication with members.