Attendance Tracking Made Simple with Kicksite Membership Management Software.
Easy Check-In
Engage your students with a simple attendance tracking student check-in screen that makes checking into class simple and fun! You can set up this up on a laptop, iPad, tablet or any other device with internet capabilities. This gives you more time to be instructing and less time checking students in one at a time.
Attendance Monitoring
Students can immediately see their attendance records after checking in. Now, there is no more guessing or time spent looking for it later in their records. If there is a program that has testing eligibility based on days at belt rank or classes at belt rank, your students will see their progress towards the minimum requirement.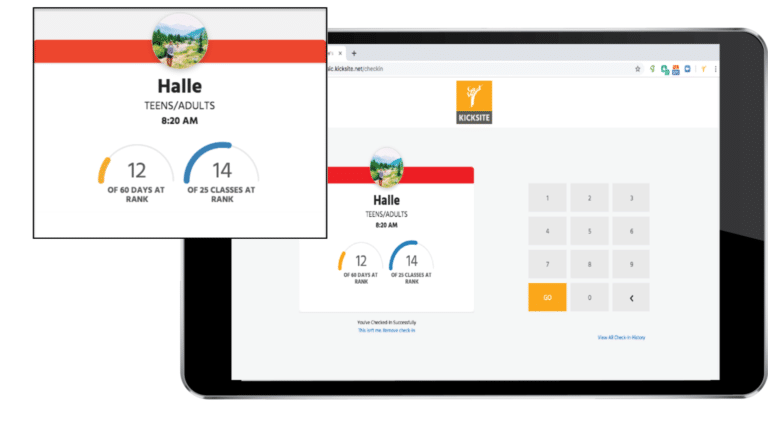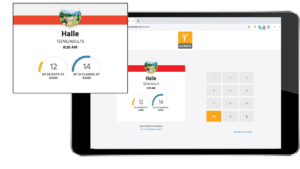 This gives students:
The belt rank they currently have
Ability to see their number of classes attended at belt rank
View their number of days at belt rank
Attendance Tracking Awards
Customize requirements to automatically reward students for making attendance a priority. You can set up multiple awards based on the number of classes they attend for each program. Above all, this gives your students the motivation to keep coming to class.
They awards include:
Bronze

Silver

Gold

---
Why Attendance Really Matters
With our team's experience in owning or working at a martial arts studio, we know that attendance tracking is crucial to understanding the health of your studio. Attendance is key to retention, and the retention of your students is what is going to help grow your martial arts business and increase the amount of referrals to your classes.
With Kicksite martial arts management software, you have the ability to easily track attendance and make the check-in process go smoothly for your students. Having the ability to implement an automatic electronic check-in station not only excites your students, it shows parents that your martial arts studio is efficient, professional, and technologically-advanced in comparison to other studios.
Upon your students arrival to class, engage them with our simple student check-in screen that makes checking into class fun and easy. Don't want to use a screen for student check ins? No problem! To sum it up for you, Use Kicksite for mass check in — set the date and time of the class and come back later and check the boxes of students that were in attendance.