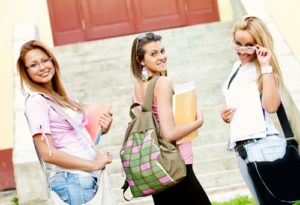 It's unfortunate, but attacks on college students, whether on-campus or off, is a common occurrence. This can be a scary proposition, especially for female students who don't always travel in groups and in many instances, can find themselves walking alone at any point in the day. This is one of the reasons why current students and those preparing to enroll have begun taking up martial arts training.
According to a report from ABC News affiliate KEYT-TV in Santa Barbara, California, Tamara Hansen, a student at Fresno State University, has been studying martial arts since her freshman year at the school. Her primary goal was to be able to protect herself while away from home.
Since she's been taking classes, Hansen told the news outlet that she's now much more confident in her ability to be able to react in a threatening situation that would ultimately keep her safe. She also revealed that in many instances, many people will panic and not know what to do in these situations. This moment of hesitation can be detrimental and lead to unfortunate outcomes. This underscores the importance of her martial arts training.
"When somebody fights back, usually not all the time, but usually that kind of scares [the attacker] off," Chris Ruiz, who serves as Hansen's instructor at Santa Maria Martial Arts where she trains, told the news outlet. "Is it going to work 100 percent of the time? No, it will not. But it'll just give them the confidence to change the way they present themselves, how they walk, and even how they talk in public so that they don't make themselves an easy target."
Students at the University of Georgia receive martial arts training
In a report from The Red and Black, the University of Georgia's student newspaper, the school's karate club and the chief of the on-campus police department, partnered to train students in self-defense. Given a recent string of armed robberies that have taken place in Athens, many of the students taking the classes find them beneficial.
Spanning just three sessions, the last of which is scheduled to take place, April 4, students are not only given statistical data related to the safety of Athens as a community, but also tips on how to avoid threatening situations and not become a victim.
While martial arts is not always about being trained enough to win a fight, being instructed on how to avoid dangerous situations in the first place is also valuable.