Invoice Details is where you can set the tax rate, how much a late fee is, and add any default notes to all invoices for your students or prospects.
Click here to watch the video that show you how to update Invoice Details.
First Steps
If you haven't already added inventory items, set up your Inventory.
To set up Invoice Details:
1. Click Quick Links on the left panel, click Settings, and then click Invoice Details. (Alternatively, click your username in the upper-right corner, click Settings, and then click the Finances tab.)
2. Scroll down to the Default Invoice Detail section. Determine which options apply when the payments are due:
Term: Select when an invoice is due from the drop-down list.
Late Fee: Select if a late fee will apply to invoices from the drop-down list. If you select a percent, that amount will be automatically calculated. If you select Flat Fee, you can then enter the amount for the late fee.
Tax Invoice?: Select the check box if you want to include tax in your invoices.
Tax Percentage: Enter the tax rate.
Notes: Type in any notes you want to show on all invoices.
3. Click the Save button to save any changes you made.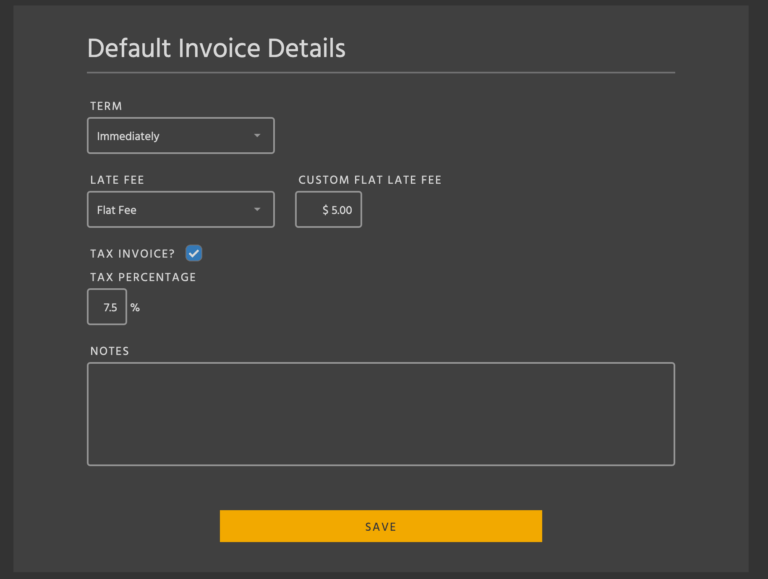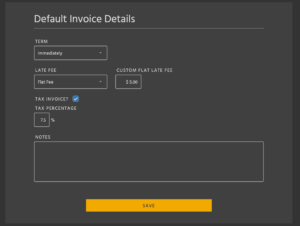 What's Next?
After you have updated Invoice Details, create an invoice to charge a student. You may also want to review the Invoices Dashboard page.