How to Access the Invoice Dashboard
The Invoice Dashboard keeps you up to date and in control of all the invoices that you and your staff have created within Kicksite.
Click the following link to watch the video on the Invoice Dashboard.
First Steps
If you haven't already, set up your Inventory items and create invoices to charge students.
To reach the Invoice Dashboard:
From the dashboard, click Finances and then Invoices. From within Kicksite, hover over the Finance menu and click Invoices.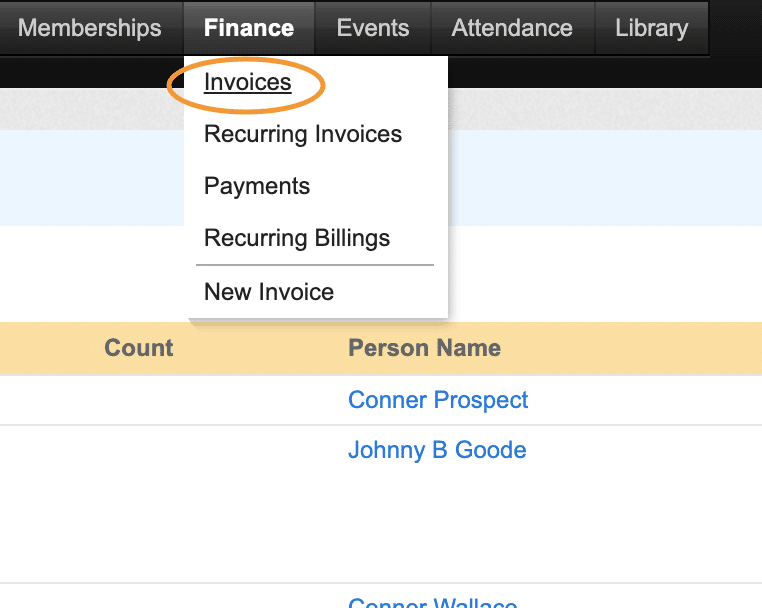 At the top right you have links to view recurring invoices, create a new invoice, filter your invoices, or export a list of your invoices.
Note: To export all of the items on the dashboard to a spreadsheet, click Export All.
​The Invoice Dashboard has four different sections to help you manage your finances:
Undelivered Invoices: An invoice that contains a physical item that hasn't been "delivered" to the student. If you forgot to check the "Does this invoice contain physical items" box at the bottom of your invoice, you can click "Mark Delivered" in the Undelivered Invoices section. (This subtracts the number of physical inventory items you have and helps you keep track of your stock) To view more Undelivered Invoices, click "Show more."
Past Due Invoices: An invoice that has not been paid by the designated due date. In the Past Due Invoices section you can see the invoice date, the invoice ID (which you can click to go to the invoice), the count (and if this is a recurring invoice, the number of days past due), the person's name, the amount due, and a list of actions you can take on this invoice. If needed, you may also delete a past due invoice from this section. To view more Past Due invoices, click "Show more."
Open Invoices: Invoices that have been generated, but not yet paid. This section allows you to see which student has an active invoice, the amount that they owe, and how many days before payment is due, along with a list of actions you can take on the invoice. To view more Open Invoices, click "Show more."
Closed Invoices: Invoices that have been paid. The Closed Invoices section will show 10 of the most recent closed (paid) invoices. To view more Closed Invoices, click "Show more."
​
Action Icons Glossary:
Action icons appear in the Past Due Invoices and Open Invoices sections to assist you in managing an invoice.
| | |
| --- | --- |
| Icon | Description |
| |  Process a Transaction – Run an immediate transaction by entering or swiping a credit card or by using a vault item. (Only available to Kicksite Billing clients.) |
| |  Record a Payment – Mark a payment that was processed outside of the system (such as cash, check,  Venmo, or PayPal). |
| |  Email Invoice – Email the student a copy of the invoice. |
| |  Invoice is Emailed – A copy of the invoice has already been emailed to the student. |
What's Next?
If you haven't already, you may want to review the Invoice Details page. If you want to start processing payments directly with Kicksite, you can request billing to get started.