How to Update Source Settings
The Source Settings page is where you can add, edit, archive, restore, or delete the sources for your prospects and students.
To view or update Source Settings
Click your username in the upper-right corner, and then click Settings. Click the Sources tab.
Here's how to manage sources:
To add a new source, click the the Add New text field and type the name for the source. Keep in mind that you need to keep the text to 50 characters or less. If you go over 50 characters, the extra characters will be highlighted in red.
To edit a source, click the Edit icon (it looks like an orange pencil) for the source you wish to change. Edit the text and click the check mark or press Return/Enter.
To archive a source, click the Archive icon beside the source. (The Archive icon looks like a blue box.) If the source is being used on a lead capture form or landing page, you will see a notice to let you know which ones will be affected if you archive the source.
To restore an archived source (to move it back to the Active tab), click the Archived tab, and then click the Restore icon (it looks like a green, circular arrow).
To delete a source, click the Archived tab. Click the Delete icon (it looks like a red trash can). Click the Delete button to confirm that you want to permanently remove the source.
Archived sources aren't deleted, but they will no longer appear in the list of sources (to keep the clutter down). If a student or prospect has an archived source applied, it will still appear on their profile.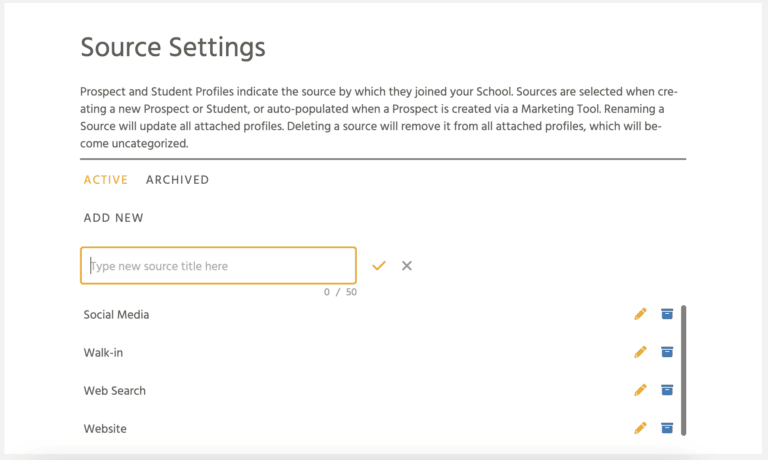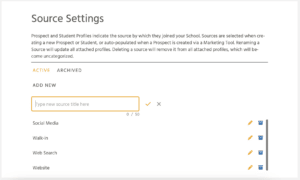 Prospect Assignment Email Settings
In the Prospect Assignment Email Settings section, you can select whether to send an email to an employee when a prospect is assigned to them. If you change this setting, click the Save button.