You can run a single transaction to charge a credit card for a one-time payment, such as a pro-shop purchase, a registration fee, or a punch-card membership.
First Steps
If you haven't already requested billing, you'll need to do so before you can charge credit cards from within Kicksite. You will also want to send Vault Invites and enter Vault Items to make it easier to run the transaction.
To run a transaction:
1. On the left panel, click Finances, and then click Add New Transaction.
2. In the Student, Family, or Prospect Name field, start typing the name of the person you are charging. Click the correct name from the search results that appear under the field.
3. In the Amount to Charge field, enter the purchase price. (Enter the price without currency symbols; 49.99 or 100.00, for example.)
4. From the Payment Reason drop-down list, select the type of purchase. (Optional: If you need to add a payment reason, you can click the Edit Reasons link.)
5. From the Payment Method drop-down list, select how the student is paying. (Optional: You can add payment methods by clicking the Edit Methods link.)
6. Under Choose a Payment Source, you have three options:
Swipe Credit Card: If you have a card swiper connected to your computer (or tablet or smartphone), click this option and swipe the card. (Note: You will need to use a card swiper purchased from your credit card processor.)
Enter Credit Card: If the payment presented is a new card, click this option to enter the card information. You will need to enter the First Name and Last Name as it appears on the card. Select the card type from the Type drop-down list, and type the card number in the Number field (no spaces needed). Select the Expiration Month and Year, and type in the CVV. Finally, enter the billing address in the Street Address and Zip Code fields. (See the left image below.)
Vault: If the student has a card entered as a Vault Item, click Vault. If the student has a Vault Item, the card type and last four digits will appear. (If no cards appear, click the Refresh/Reload link.) Select the option button beside the card to be charged. (See the right image below.)
7. Click the Charge button to run the transaction. (Click Cancel if you need to back out of the transaction without charging the card.)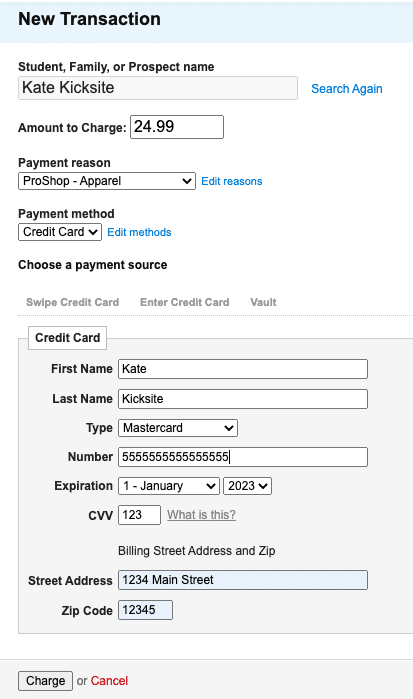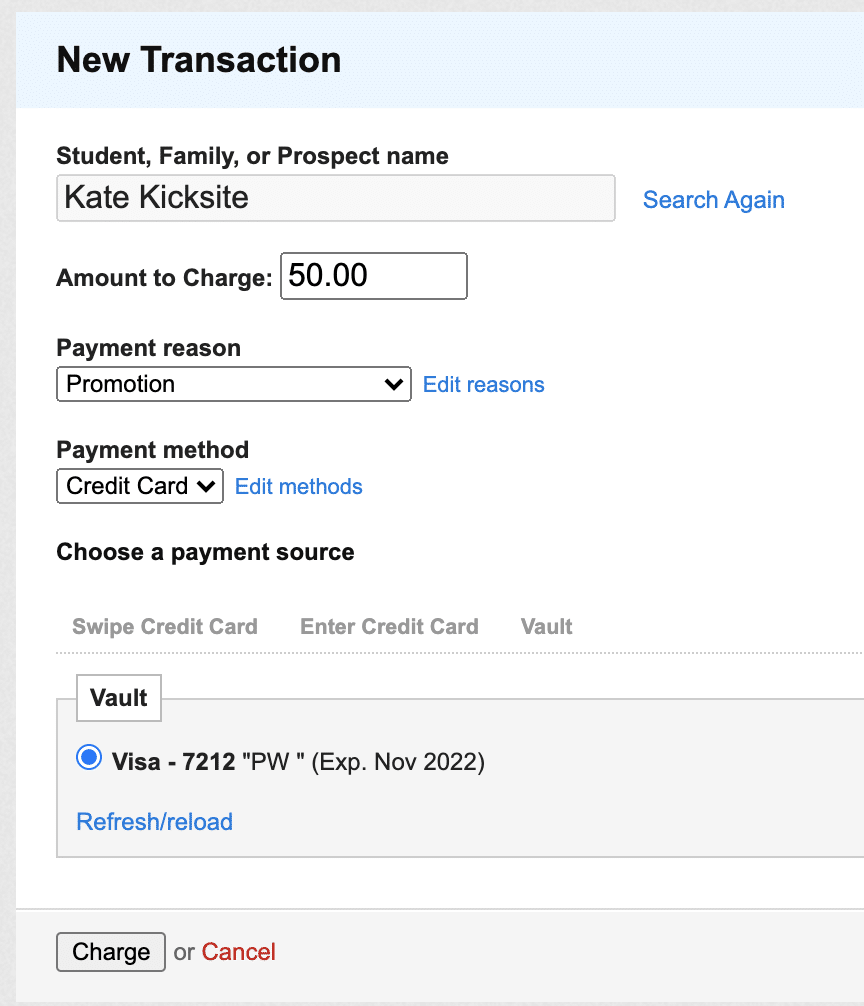 What's Next?
Find out how to refund a transaction (if your customer returns an item, for example). You may also need to set up recurring billings so you can charge students for their monthly tuition.