A Vault Item is a credit card, debit card, or checking account that has been stored in Kicksite to be used for billing or purchasing purposes.
Kicksite allows you to add multiple Vault Items to a student's profile, giving both you and the student the ability to choose which card to use when making a transaction. A Vault Label can be used to identify the different stored methods of payment.
For example, if a student wants to purchase new gear for an upcoming tournament, they can choose from the Vault Items they have on file. Card No.1 is mom's and can be used for tuition and testing, but Card No. 2 is grandma's card and is used for pro-shop purchases only.
First Steps
First, you need to request billing before you can enter a Vault Item or add a Vault Label. If needed, create the new Vault Item.
To add or edit a label for an existing Vault Item:
1. Click Quick Links in the left panel, click Billing Finance, and then click Vault Lists.
2. Find the existing Vault Item that you want to update and click Edit.
3. Make sure the check box for Keep Credit Card Details is selected.
Note: This will allow you to edit the vault item's label without having to re-enter the credit card information. When the check box is selected, the vault's details are hidden and cannot be adjusted.
If you wish to update the expiration date of the vault item, you will need to re-enter all of the card information.
4. At the bottom of the page, type in the new label in the Vault Label field.
5. Click the Update Vault Item button.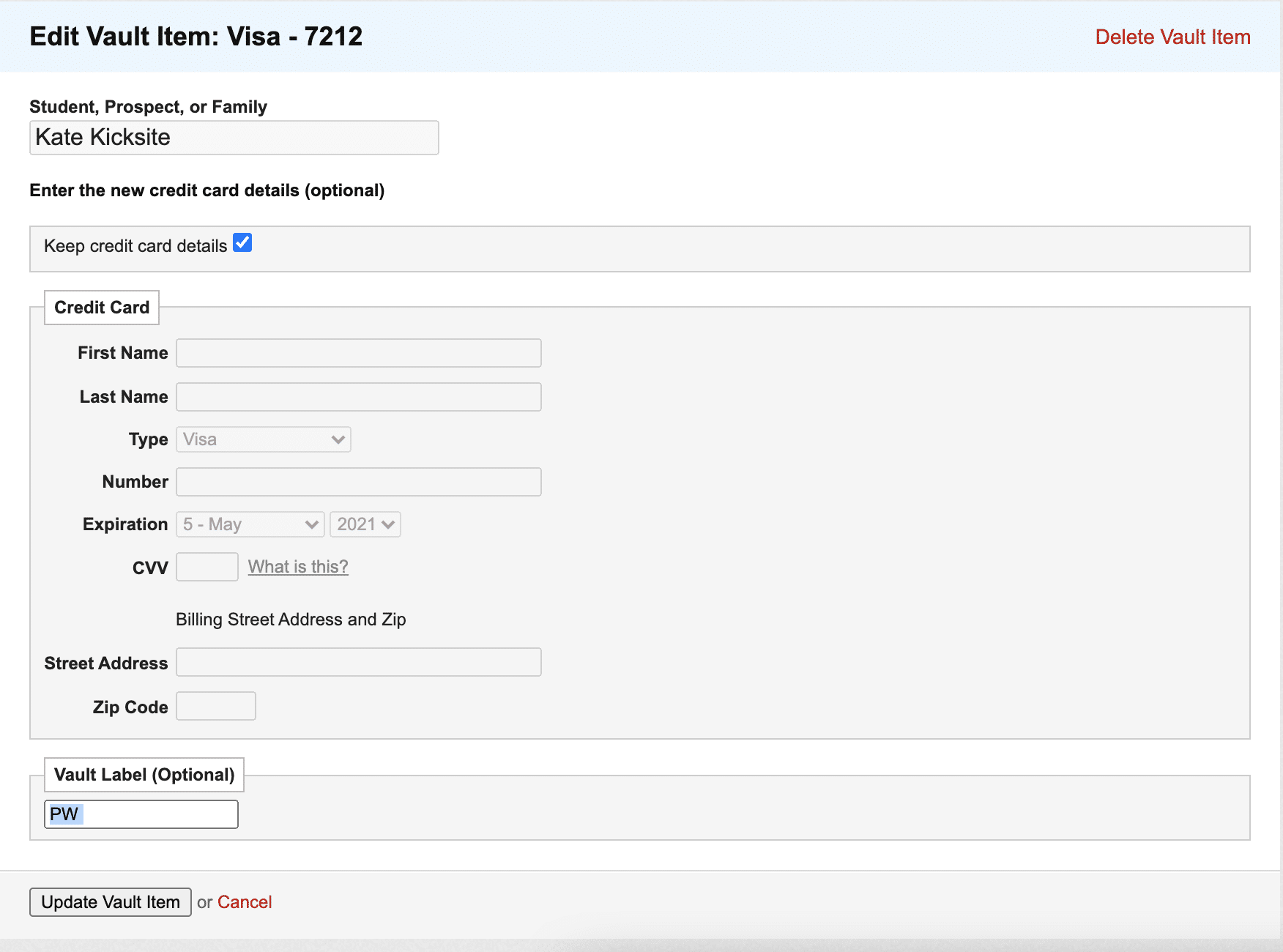 What's Next?
​If you haven't already, send your students (and their parents) a Vault Item invitation so they can enter their payment information. After you have entered or collected Vault Items, you can set up recurring billing.