Kicksite allows you to create your agreements in your system. With these agreements, you can have your students agree to your terms and sign the agreement via email.
To add an agreement in Kicksite:
1. Click Quick Links in the left panel, click Agreements, and then click New Agreement Template.
2. Click the Add Agreement Template link.

The Agreement Template Editor page is where you can write or paste the text of your agreement form.
Note: Because each city, state, and country has its own laws and regulations for agreements and waivers, Kicksite does not provide templates.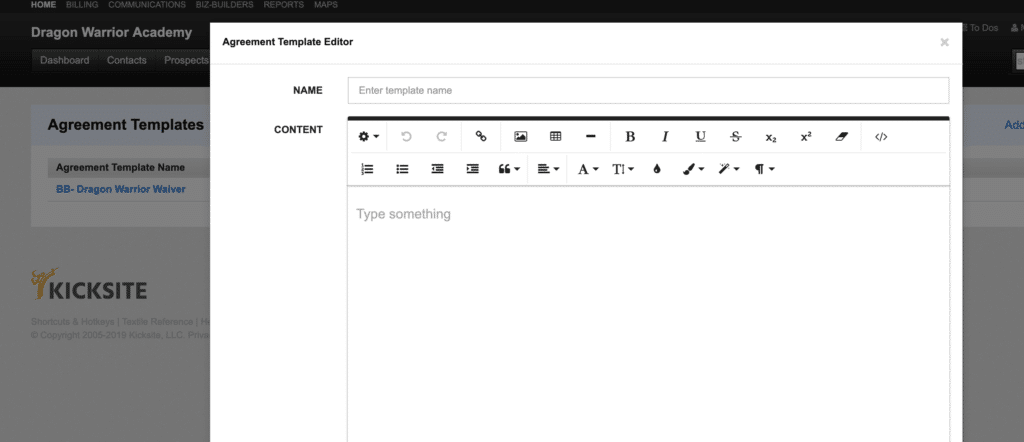 3. Type a name for the Agreement Template in the Name field.
This name will be seen by both the staff and the student after the agreement has been signed, so it is recommended to give it a name that matches the terms of that agreement. The template's name also needs to be unique, so you may need to add your school's name and/or location in the agreement name (for example: Dave's Training Center, Anytown School — Membership Agreement — 6 Months).
4. Add the body of the agreement by either:
Typing your agreement's terms (if you don't have a digital version of your agreement).
Copying and pasting the text of your agreement in the contents section where you see the words "Type something" (if you have your agreement in a digital format).
5. At the top of the contents window is a menu of different options; with this menu, you can:
Add pictures and hyperlinks.
Build tables.
Format and stylize the body of your new agreement form.
6. (Optional) You can choose variables from a list that will pull information from the student's profile (such as First Name, Last Name, and street address) and add it directly into the agreement upon signing.
7. Choose the desired Signature option (one of the Signature options is required):
Check Box: Add a simple check box that stipulates that the student agrees to the terms and conditions.
Signature: Add a signature field; this allows your students to use a mouse (if signing on a computer) or their finger (if on a mobile device) to physically sign their name in digital form onto the agreement.
​IMPORTANT: The signature field WILL NOT be displayed and the students WILL NOT be able to sign the form unless the Signature Area variable has been added.

8. When complete, click the Save Changes button at the bottom.
To view or update/edit a template that has already been created:
1. Click Quick Links in the left panel, click Agreements, and then click Agreement Templates.
2. Click the template name.
3. In the agreement template editor screen, make any necessary changes to the agreement.
4. After you are finished editing or updating the template, click the Save Changes button.