How to Edit Attendance Details
Attendance Details allows you to set attendance controls for your programs.
Click the following to watch the video that shows you how to edit the Attendance Details settings.
First Steps
Create new programs and add ranks and custom belt graphics.
To update the Attendance Details:
1. Click your username in the upper-right corner, click Settings, and then click the Programs tab.
2. Click the name of the program that needs the attendance information updated.
3. Click the three vertical dots (to the far right of the program name) and click Edit.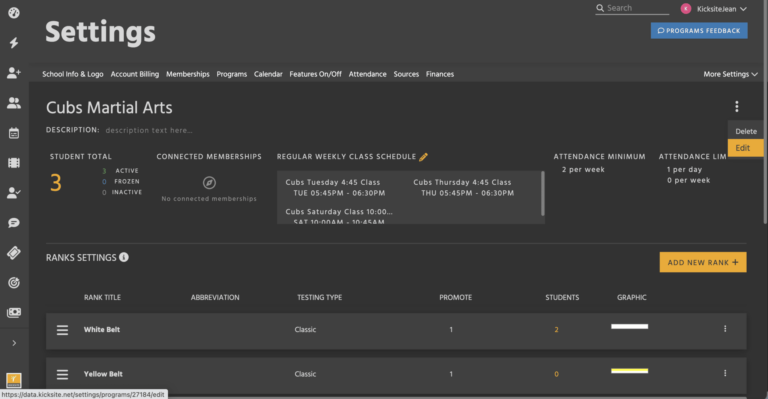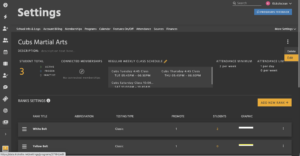 4. In the Attendance Minimum field, enter the minimum number of classes a student must attend per week to avoid showing as absent on the Attendance Report (2 is the default). Weekly is selected by default, but you can click Monthly to calculate by the month instead.
5. Under Attendance Limit, enter a maximum number of classes students can attend in the Daily and Weekly fields.
6. After you have made all the necessary changes to your attendance minimums and limits, click Save.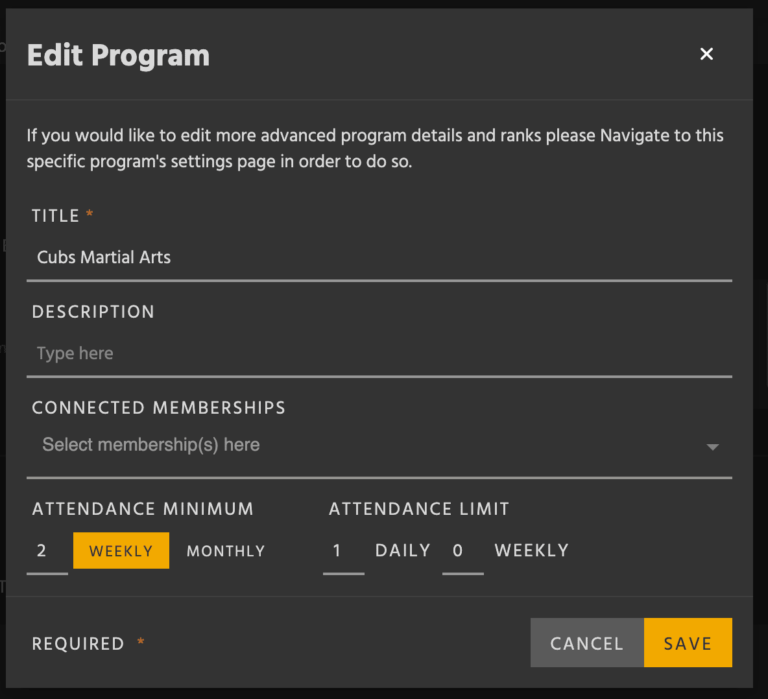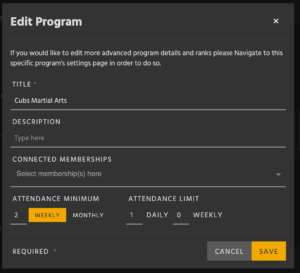 Attendance Minimums
The number of classes per week or per month a student needs to attend so that they are not considered absent.
After a student is marked as absent, they will show on your dashboard in the Absent tab of the Alerts widget.
If you would like to exclude the program from the Attendance Report, set the Attendance Minimum to 0 (zero).
Attendance Limits
How many times per day and per week a student can check-in for that program.
For no attendance limit for a program, enter 0 (zero) in the field.
What's Next?
Make sure you have set up your memberships. Consider setting up Attendance Awards if you haven't already, and start allowing students to use the Student Check-In screen.